Here's what's happening with Meghan Markle's character on "Suits," just FYI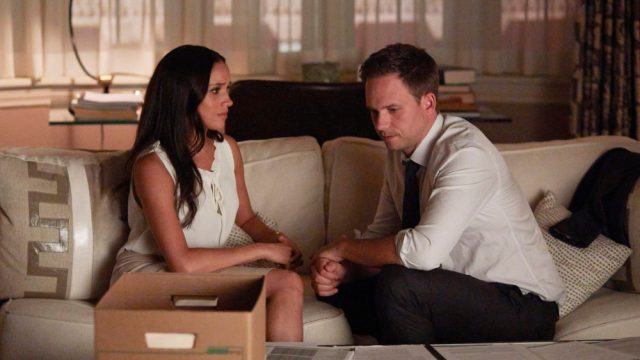 His Royal Highness Prince Henry of Wales, better known as the dashing Prince Harry, apparently loves Suits — and now, he's engaged to one of the show's leads. Prince Harry's fiancée is, of course, Meghan Markle, a stunning human being and actress who is best known for her role on the USA drama. So where did Meghan Markle leave off on Suits, and what does the engagement mean for the series?
When fans last saw Meghan Markle on Suits, her character — Rachel Zane — was worried about the lawsuit with her father Robert.
In the midseason finale, which aired this past September, Markle's character was hesitant about pursuing a pro bono lawsuit after learning what it meant to her father. What began as a case against predatory lenders quickly spiraled into personal score-settling, as Rachel learned that one of the bank's executives had abused her father's sister.
The more she learned about the case she was taking on with her father, the less secure she felt about it. Was his drive for vengeance affecting his judgment regarding the case? (Maybe Markle will tell Harry — who is, again, apparently a BIG Suits fan — spoilers as a wedding present?)
Her Suits counterpart is engaged and expected to tie the knot with Mike Ross (played by Patrick J. Adams) — who had hilarious and heartwarming responses to her IRL engagement news —  in the back half of Season 7. Markle and Ross have costarred on the series since 2011, and the chemistry between Rachel and Mike is one of the most beloved aspects of the show. It's heartwarming to know it extends to real life, too.
The pair are reportedly leaving the show after Season 7 — previous speculation indicated that Markle would leave to plan her then-rumored wedding — and we'll be sad to see them go. But we're so excited for Meghan and Harry! Here's hoping things go smoothly for Rachel and Mike as they (probably) wrap up their time on Suits.
…Though we definitely would not object to Prince Harry making a cameo to shake things up even more.