Meghan Markle just got a funny shout-out on Suits, and we love this meta moment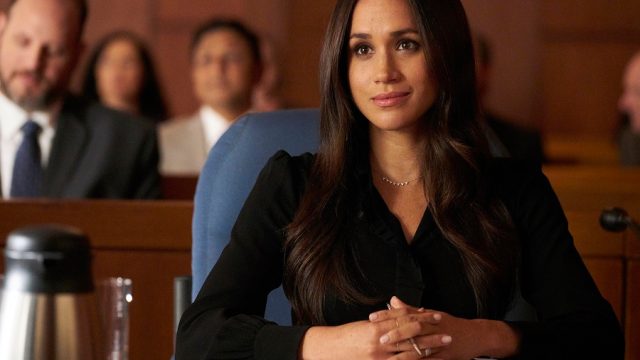 Warning: Light spoilers ahead for Suits Season 9.
Since Meghan Markle announced in 2017 that she'd be stepping away from her acting career to focus on her royal and philanthropic obligations, Suits fans have been missing her character, Rachel Zane. Markle's final season aired last year, just prior to her royal wedding to Prince Harry.
But in the August 14th episode of the series, there was a hilarious little reference to Markle's new life as a duchess, and fans surely got a chuckle out of this one.
To recap: Markle's character Rachel and her husband Mike, played by Patrick J. Adams, both left at the end of Season 7, departing New York City for Seattle, where they started their own law offices. Adams came back for this week's Season 9 episode, telling people how Rachel is doing in Seattle. His response? "If I told you how good, you probably wouldn't believe me," a not-so-subtle wink and nod to Markle's new life as a royal.
The official Suits Twitter account even poked a little fun at the meta moment, tweeting, "Turns out Rachel is doing REALLY well," adding a winking smile emoji to boot.
Of course, it seems highly unlikely that Markle herself will come back for a guest appearance—the show is in its final season, and the new mama has a lot on her plate these days, especially with Baby Archie and her royal engagements back in full swing.
Still, she had nothing but great things to say about her run on the show. In her first joint interview with Prince Harry after they were engaged, she said she didn't view leaving Suits as "giving anything up."
"It's a new chapter, and also, keep in mind, I'd been working on my show for seven years. So we were very, very fortunate to be able to have that sort of longevity on a series. And for me, once we hit the 100-episode marker, I thought, You know what, I have ticked this box, and I feel really proud of the work I've done there. And now it's time to work as a team with [Prince Harry]."
It seems like her costars have nothing but love for her, and we hope she tuned in to see her sweet little shout-out.