7 times Meghan Markle proved she was royalty before she even married Prince Harry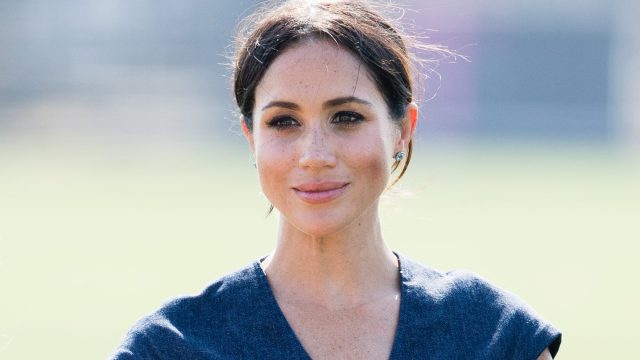 On August 4th, Meghan Markle celebrates her first birthday as a member of the British royal family. While the Duchess of Sussex is certainly the newest member of the fam, in the eight months since her engagement to Prince Harry, we've watched her seamlessly transition from actress to royal.
From the couple's first joint interview with BBC after getting engaged to Markle's everyday interactions with fans, many have been blown away by the former actress's graceful transition into her new role. However, longtime fans of the former Suits actress are not surprised. While she's only officially been a royal for a few months, many of her personal endeavors have been preparing her for royal life years before she met Prince Harry.
Here are seven times Meghan Markle was royal before officially becoming a royal:
Her early foray into activism
While the royal family generally shies away from politics, Meghan is not only a vocal political advocate but began her activism at a very young age. At 11 years old, Meghan saw a Procter and Gamble dish soap commercial that said, "Women all over America are fighting greasy pots and pans." Frustrated at the sexist connotation that cleaning dishes is a job just for women, Meghan wrote to a number of powerful women, including Nick News host Linda Ellerbee and then-First Lady Hillary Clinton. She even wrote a letter to Proctor and Gamble, which eventually heeded her advice and dropped its sexist ad.
…which led her to become an advocate for UN Women
Much like her late mother-in-law, Princess Diana, Meghan has been outspoken about the causes that are important to her. In 2015, Meghan Spoke at the UN Women 20th anniversary of the Fourth World Conference of Women in Beijing event, where she opened up about how her early experience with Proctor and Gamble taught her the impact one person can have on major issues. She told the crowd, "Women need a seat at the table, they need an invitation to be seated there and in some cases, where this isn't available, well then you know what, then they need to create their own table." That same year, Markle visited Rwanda as an advocate for UN Women, meeting with women lawmakers and grassroots organizers.
Her on-camera experience
Being a public figure is not easy, especially when you're as visible as the royal family. Though Meghan hasn't had a lifetime to get used to this aspect of royal life like Prince Harry has, her years as an actress on a hit cable drama have made her a natural in front of the camera.
Her work as a World Vision Global Ambassador
Meghan and Harry have been open about bonding over their mutual passion for humanitarian aid early in their relationship. In 2016, as a global ambassador for World Vision, Meghan visited Rwanda as part of the organization's Clean Water Campaign. A year later, she visited India to shine light on how a lack of menstrual resources can affect girls' education in many parts of the world, and wrote an op-ed for Time about the importance of breaking down educational barriers for women in the developing world.
Her fashion icon status
Like her late mother-in-law and her sister-in-law, Kate Middleton, before her, Meghan has quickly become a royal fashion icon, and her outfits and their lookalikes are appearing in closets all over the world. But while Meghan is a relatively new fashion staple, she's been developing her classic style for years. Sure, she breaks the royal family's style rules a little bit—messy buns and all—but let's face it, she's always looked flawless.
Her past as a calligrapher
Before she played paralegal-turned-lawyer Rachel Zane on Suits, Meghan was a struggling actress looking to make ends meet. But while many struggling actors turn to food service for a side gig, Meghan had a particular skill that came in handy: calligraphy. The former actress worked as a professional calligrapher, designing the invitations to Paula Patton and Robin Thicke's 2005 wedding. While there's nothing officially royal about calligraphy per se, it does have a regal quality to it, don't you think?
Her genetic ties to royalty
Okay, this is less of something Meghan is directly involved in, but it's interesting nonetheless. While she may not have a direct connection to the throne like her husband does, Meghan does have royal ancestors…like, very far back. Apparently, on her father's side, Meghan is a descendant of King Edward III, who ruled England from 1327 to 1377 and whose claim to the French throne sparked the Hundred Years War. Ah, so the family drama really goes back generations. But don't worry, Meghan's royal lineage only makes her a very, very, very distant cousin of Harry's.