All the Meghan Markle royal baby name theories, ranked in order from most to least plausible
Congrats are in order for Meghan Markle, who gave birth in the early morning hours of May 6th, 2019. Since the announcement is only that the baby is a boy (born at a healthy 7 pounds, 3 ounces), the baby name theories are still rolling in. Meghan and Harry's child is seventh in line to the throne, meaning the happy new parents have more freedom when it comes to naming their bundle of joy than William and Kate did (although a traditional English name from those pre-approved royal name lists still doesn't seem unlikely). We'll obviously learn Meghan and Harry's child's name shortly, but for fun, here were the most popular royal baby names according to bets and theories—ranked in order of plausibility.
Note: All the girl names are obviously disqualified, but we can save that thought for whenever Meghan and Harry welcome a daughter.
Arthur, Alexander, or James
If you type the royal website (www.royal.uk) into your browser and add "/prince-arthur," "prince-alexander," or "/prince-james" to the end of the URL, it will redirect you to the homepage. If you try to type in another name, say "/prince-donald," a "page not found" link appears. Many royal watchers seemed to think that the royal family added the following prince pages in case Meghan and Harry decided to name their kid Arthur, Alexander, or James. However, the palace denied the rumor and said they only made those vanity URLs for search reasons.
"A large number of search term redirects were set up some time ago on royal.uk. This was in order to improve user experience," a Palace spokesperson told NBC while adding that a number of hypothetical "prince" and "princess" names will also redirect to the homepage.
It does make sense that the royal family would want people to land on their homepage if they mistakenly type in the wrong royal name, but we also think they created royal URLs for names of Harry and Meghan's short-list. We wouldn't be shocked if this new baby boy is given one of the aforementioned names.
Elizabeth or Diana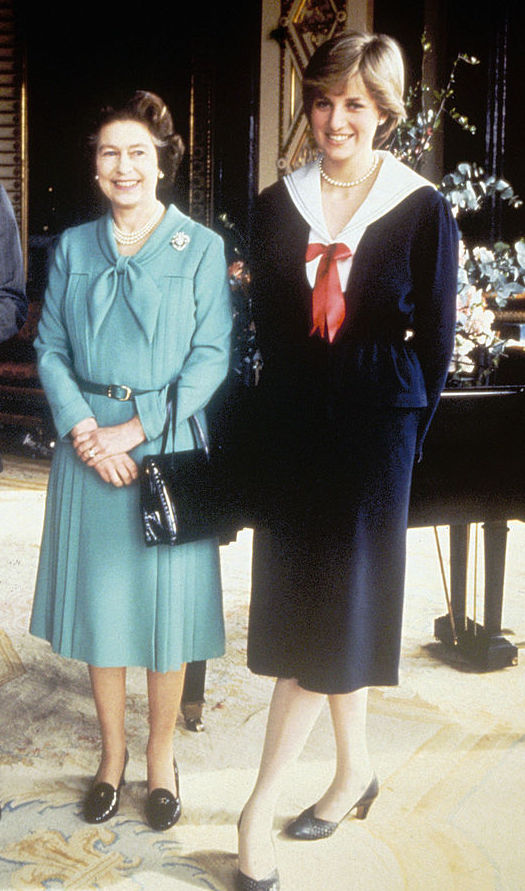 When it comes to U.K. betting culture, English bookies Ladbrokes (via People) note that Elizabeth and Diana have been the two most popular names for weeks. Royal fans think that the Duke and Duchess of Sussex will name their daughter after her grandmother or great-grandmother, and we think Diana, especially, is a very likely candidate since Prince Harry has always made a point of keeping his mom's legacy alive.
Grace
On April 30th, 2019, Ladbrokes (via Vanity Fair) reported that the name "Grace" suddenly scaled the betting lists to share the top spot with Diana and has recently become a more popular choice than Elizabeth. Grace feels like a wild card, but there is some precedence—this future royal baby would share a name with another iconic royal: Princess Grace of Monaco.
Allegra
The name "Allegra" unexpectedly joined the Ladbrokes betting lists with a surge of confidence, leaving us to wonder why so many people suddenly found the name to be a strong contender. As of April 30th, 2019, it is the sixth most popular name.
"It's probably the most bizarre eleventh hour move we could've seen, but the money is coming in thick and fast for Allegra," a Ladbrokes rep told The Sun. "We wouldn't be surprised to see the name right up there with the frontrunners by the time the birth gets announced. We're scratching our heads as to why we've seen so much interest in Allegra, but...it's been by far the most popular pick of the month."
Interestingly, a source told The Daily Express that Princess Diana reportedly told her friend Lady Annabel Goldsmith that she thought Allegra was a "beautiful name" and would give her daughter that name if she ever had one.
The initials M.M.
Back in 2015, Meghan bought herself a Cartier French Tank watch (Princess Diana famously owned one too) to celebrate the third season of Suits, and had the watch engraved to say "To M.M. From M.M." At the time, she told Hello magazine that she planned to give the watch to her daughter one day, and now many are wondering if her daughter will share her initials, or at the very least, have an "M" name. We think the engraving was meant to signify that Meghan bought the watch for herself, and although she may pass it on to her future daughter, that doesn't necessarily mean her daughter needs to share her initials. (That said, Margaret is a cute royal-approved name, no?)
This article was originally published on April 30th, 2019.