The queen has barred Meghan Markle and Prince Harry from using "Sussex Royal," so it's time for a re-brand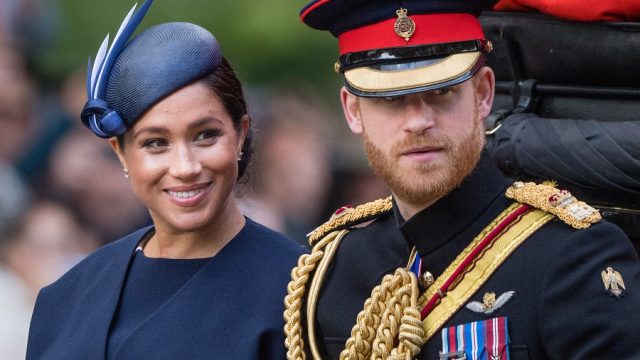 Update, February 24th, 2020, 1:07 p.m. ET: The Sussex Royals are about to be no more. It's rebranding time for Prince Harry and Meghan Markle amid their transition away from being "senior royals." Per UK rules on the use of the word "royal," the couple won't be using their Sussex Royal name any longer.
"The Duke and Duchess of Sussex do not intend to use 'Sussex Royal' in any territory post-spring 2020," a spokesperson for Harry and Meghan said in a statement, according to The Guardian. This news comes after reports of the couple filing to trademark the term "Sussex Royal Foundation." Those trademark applications, per the statement, have been removed.
"While the duke and duchess are focused on plans to establish a new non-profit organization, given the specific UK government rules surrounding use of the word royal, it has been therefore agreed that their non-profit organization, when it is announced this spring, will not be named Sussex Royal Foundation," the spokesperson further clarified.
If you've been following @SussexRoyal on Instagram, like 11.2 million others, you can expect a handle change or a new account for Prince Harry and Markle. Their transition away from the royal family will begin April 1st.
Update, February 20th, 2020, 9:33 a.m. ET: After a seeming dispute with the queen over when exactly they would step down, Prince Harry and Meghan Markle reportedly have an official date for leaving behind their "senior royal" duties. And it's coming much sooner than later.
Royal reporter Omid Scobie tweeted that Buckingham Palace released a date for the "transition process" to begin. March 31st will mark the start of an "initial 12-month review to ensure the arrangement works for all parties," Scobie quoted via an unnamed source.
That means that come April 1st (unless this is an elaborate April Fools Day prank), Meghan and Harry will no longer have an office at Buckingham Palace. Instead, they will be represented in the UK by members of their foundation team.
Scobie also reported on several of the Duke and Duchess of Sussex's remaining royal engagements in March, including Markle's International Women's Day event.
Post-March, we can likely expect that the couple will return to the UK often in an unofficial capacity. We wish them the best in their future non-royal adventures!
Update, January 13th, 2020, 12:40 p.m. ET: The queen has officially followed up on Buckingham Palace's first, very brief response to Prince Harry and Meghan Markle's announcement that they'd be stepping down as "senior" members of the royal family. This time, the statement is much more supportive, though it still seems clear that the move wouldn't have been the queen's first choice.
"Today my family had very constructive discussions on the future of my grandson and his family," the statement began, according to The Guardian. The discussions—what has come to be called the Sandringham summit—reportedly took place between Queen Elizabeth, Prince Harry, Prince William, and Prince Charles, with Markle calling in from Canada.
The statement continues:
"My family and I are entirely supportive of Harry and Meghan's desire to create a new life as a young family. Although we would have preferred them to remain full-time working Members of the Royal Family, we respect and understand their wish to live a more independent life as a family while remaining a valued part of my family."
The queen also reiterates Harry and Meghan's wish to become financially independent, though it's not detailed exactly what that would mean. She also says that there will be a "period of transition" before they fully step down, and that the couple plan to split time between England and Canada. Notably, she doesn't say "North America," as the Duke and Duchess of Sussex originally stated.
The statement ends with the queen writing, "These are complex matters for my family to resolve, and there is some more work to be done, but I have asked for final decisions to be reached in the coming days."
Final decisions? Is this still not "final"? Looks like there's still much more to be worked out, if the queen has anything to say about it.
Update, January 9th, 2020, 10:05 a.m.: If somehow you missed the "break the internet" news, yesterday, January 8th, Prince Harry and Meghan Markle announced they were stepping back as "senior" members of the royal family and were working to become financially independent. And it seems we're not the only ones reeling from the news, because the Crown released its own statement hours later, and it was, well, terse.
The entirety of the statement—which was unsigned but under a Royal Communications letterhead—was two lines. The queen's official position? "It's complicated."
"Discussions with The Duke and Duchess of Sussex are at an early stage," it stated. "We understand their desire to take a different approach, but these are complicated issues that will take time to work through."
It seems we're only at the beginning of the royal drama as Harry and Meghan try to forge a new path for their own little family.
Original post, January 8th, 2020: This afternoon, Wednesday, January 8th, Prince Harry and Meghan Markle, the Duke and Duchess of Sussex, announced via Instagram that they will be taking a step back from their royal duties in 2020. From here on out, they will split their time evenly between the United Kingdom and North America, and begin taking the steps necessary to financially separate themselves from the royal family.
"After many months of reflection and internal discussions, we have chosen to make a transition this year in starting to carve out a progressive new role within this institution," the January 8th announcement, posted to the @SussexRoyal Instagram page, begins. "We intend to step back as 'senior' members of the Royal Family and work to become financially independent, while continuing to fully support Her Majesty The Queen."
Because of the support they've garnered from the public, the duke and duchess say they feel ready to make the transition into new life.
"We now plan to balance our time between the United Kingdom and North America, continuing to honour our duty to The Queen, the Commonwealth, and our patronages. This geographic balance will enable us to raise our son with an appreciation for the royal tradition into which he was born, while also providing our family with the space to focus on the next chapter, including the launch of our new charitable entity."
Stepping back as "senior members" of the royal family means that Harry and Meghan will no longer receive U.K. taxpayer funds, as is commonplace for royal family members. According to the official Sussex Royal website, the pair now consider themselves "members of the Royal Family with financial independence."
The site explains that the duke and duchess plan to "earn a professional income," which is prohibited within the traditional royal family structure.
However, they will continue to "carry out works for The Monarch…as called upon."
"We look forward to sharing the full details of this exciting next step in due course, as we continue to collaborate with Her Majesty The Queen, The Prince of Wales, The Duke of Cambridge and all relevant parties. Until then, please accept our deepest thanks for your continued support."
As this story continues to develop, we'll be sure to update you with what the future looks like for Harry and Meghan. We respect their decision to financially depart from their royal roots (which you can learn more about at SussexRoyal.com/funding) and are anxious to see what charitable events they have planned for the year ahead and beyond.