What royal title will Meghan Markle and Prince Harry's baby have?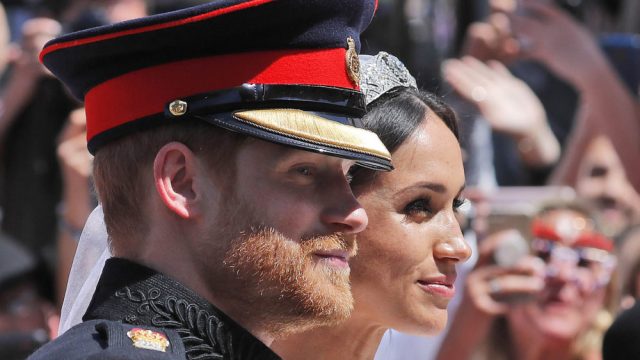 In case you've somehow missed the joyous news, another royal baby is on its way. In a statement released through Kensington Palace this morning, October 15th, Meghan Markle is pregnant, meaning the Duke and Duchess of Sussex are officially going to be parents. Naturally, fans are head-over-heels at the prospect of another season of royal baby watch, but many are also wondering what title Harry and Meghan's baby will have. And this is where things get tricky.
Harry and Meghan's baby will be seventh in line to the throne—behind Prince Charles, Prince William, William's three children, and Harry—and unless the queen intervenes, he or she will not be given the title of "his or her royal highness" or be called "prince" or "princess."
These conditions are due to a restriction imposed by Harry's great, great grandfather, King George V, in 1917, which limited the title of Royal Highness to only the eldest sons of the eldest sons.
"The grandchildren of the sons of any such Sovereign in the direct male line (save only the eldest living son of the eldest son of the Prince of Wales) shall have and enjoy in all occasions the style and title enjoyed by the children of Dukes of these Our Realms," reads King George V's Letter Patent.
However, there is wiggle room on this. According to the above, Prince George is the only royal child who should have the "royal highness" title right now. However, in late 2012, while Kate Middleton was pregnant with George, Queen Elizabeth II issued a Letter Patent allowing "all children of the eldest son of the Prince of Wales"—aka Prince William—to hold royal highness titles, which is why Princess Charlotte and Prince Louis also go by her/his royal highness.
If the queen doesn't intervene, Harry and Meghan's children will presumably hold the title of Lord or Lady. They'd be known as Lord or Lady Mountbatten-Windsor, which fans of The Crown know to be the royal family's formal last name. However, if Meghan and Harry's child is a boy, according to The Mirror, he'll hold the title of Earl of Dumbarton, one of the many peerage titles given to Harry by the Queen on his and Meghan's wedding day, until he inherits the title of Duke of Sussex.
Basically, only time will tell which formal title(s) Harry and Meghan's child will officially receive.