Meghan Markle and Prince Harry received a five-tier *cheese* wedding cake, and it is so Pinterest-worthy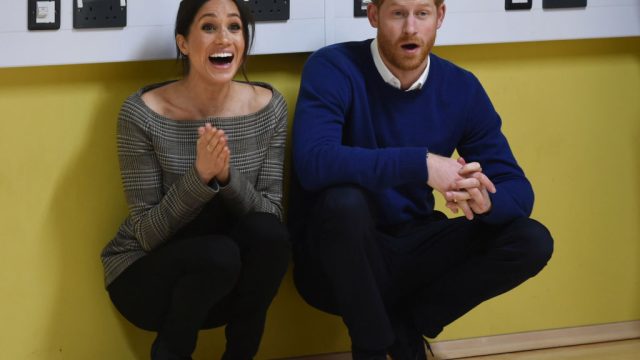 Meghan Markle and Prince Harry continued their royal handshake tour with a recent stop at Cardiff Castle in Wales. The purpose of the visit was to experience authentic Welsh culture, which, in this instance, included cultural performances and samples of regional cuisine. They were also presented with a five-tier ~cheese~ wedding cake by the Snowdonia Cheese Company, and now we've decided that regular cake is lame and we only want to see cheese cakes at all weddings always.
"We made it for them," Simon Mercer, the director of the cheese company, told Hello!. "It's to celebrate their wedding and to offer our congratulations to them."
Apparently, this isn't the cheese brand's first "wedding cake." Mercer revealed that non-royal couples have requested multi-tier cheese cakes from the company over the years.
According to the cheese company, the "cake" is comprised of five kinds of cheese including something called Black Bomber and a garlic cheese called Green Thunder. (Pass the water crackers, please.) The only downside to this whole thing is that Markle and Harry probably didn't take the cheesy treat home. "They are very welcome to take it away but it's unlikely," Mercer said of the couple's long train ride back to London.
Because we were curious about this whole wedding cheese thing we did a quick Pinterest search and discovered that many couples have already done this on their wedding day.
These cakes are *drools* beautiful. The royal couple's actual wedding is on May 19th, 2018 — fingers crossed for an encore performance from THAT cake.