Meghan Markle and Prince Harry shared a never-before-seen photo of Archie, and can we babysit?
The royal family is celebrating Prince Charles' 71st birthday, but it's the rest of us that were given a gift. Meghan Markle and Prince Harry shared a never-before-seen photo of baby Archie as part of their birthday tribute to Harry's dad on his big day. It's exactly the dose of cuteness your Thursday needs.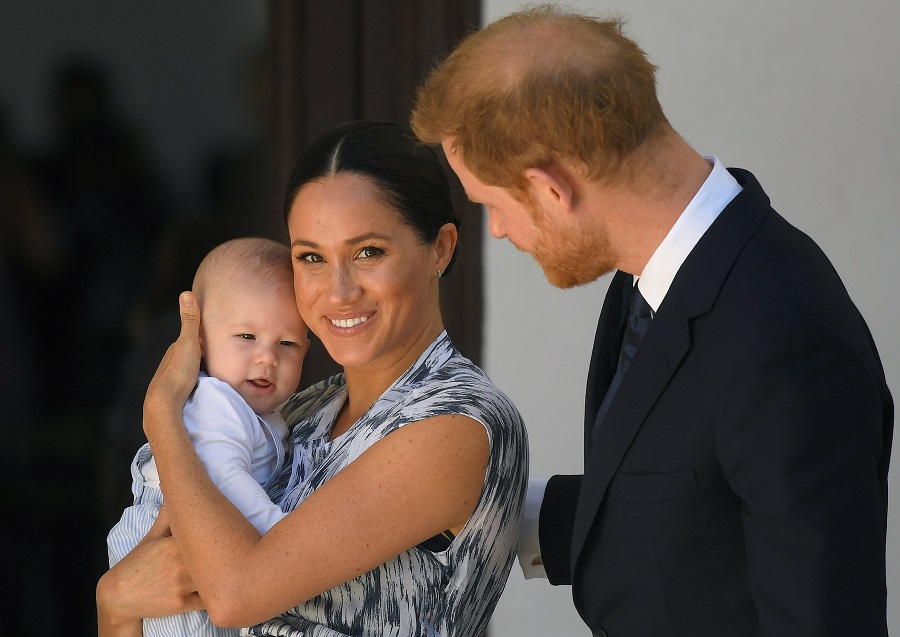 As Prince Charles celebrates his birthday on November 14th, the Duke and Duchess of Sussex took to Instagram to share a sweet message, including a brand new photo from baby Archie's christening back in July. In the gorgeous black-and-white shot, Prince Harry can be seen holding his little one as Prince Charles looks on, and we're given another glimpse of Archie's adorable little face.
In their caption, the pair wrote, "Happy birthday to His Royal Highness The Prince of Wales – Sir, Pa, Grandpa!" of course, ending things with a birthday cake emoji for good measure.
Prepare yourself for sweetness overload, because Archie is serving it up in spades.
Those cheeks!
Archie isn't the only royal baby that came to wish Prince Charles HBD. Kate Middleton and Prince William shared a photo of their youngest son, Louis, too.
Archie's sweet photo tribute comes on the heels of news that Meghan and Harry will not be attending the royal family's annual Christmas festivities. They're instead opting to spend Archie's first Christmas with Doria Ragland, Meghan's mom.
In a statement, Buckingham Palace said, "The Duke and Duchess of Sussex are looking forward to extended family time towards the end of this month. Having spent the last two Christmases at Sandringham, Their Royal Highnesses will spend the holiday this year, as a new family, with the Duchess' mother Doria Ragland. This decision is in line with precedent set previously by other members of the Royal Family, and has the support of Her Majesty The Queen."
While we'll miss the lovely holiday family photos the annual royal tradition gives us, we hope the new family of three enjoys a quiet and happy holiday. And we wouldn't be mad if they blessed us with more Archie photos as he rings in his first Christmas. Hint, hint…