Meghan Markle's nephew went on TV to complain that he's not invited to the royal wedding, and the video is beyond cringe-worthy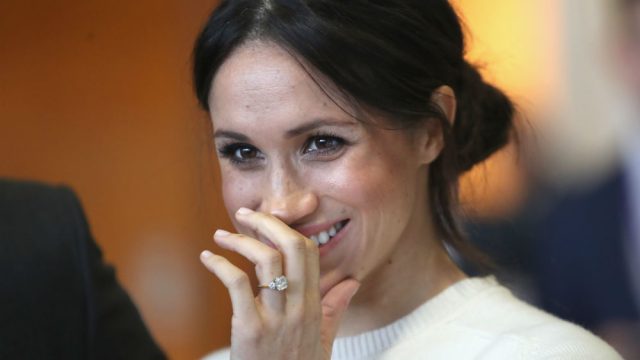 Imagine hosting a wedding and deciding not to invite some of your family members…and then watching them publicly complain about it on live TV. That's what's happening right now in royal wedding land: Meghan Markle's nephew and his mom went on television on March 26th to talk about how they haven't been invited to the royal wedding, and it's painfully awkward to watch.
Markle's nephew, Tyler Dooley, and his mom, Tracy, were interviewed this morning on Good Morning Britain from their home in Oregon for reasons we don't quite understand — but it kind of seems like it was just to complain about not getting an invite to the royal wedding.
During the interview, which is super cringe-worthy, Markle's nephew and his mom confirmed that they were not among the 600 people to receive an official invitation.
After that, host Susanna Reid prolonged the awkwardness by asking, "So you haven't ruled it out?" Tyler says, "Not entirely, but at this point, again… this all goes back to Meghan. I mean ultimately it's her day, it's her happiness, and again, we've been here from the very beginning, I mean her whole life, just always rooting her on and supporting her."
Tracy, on the other hand, who was married to Meghan's half-brother Thomas until 2001, says she doesn't think they'll be receiving an invite, but they're "okay with that."
Yikes. Host Richard Madeley then asked the two when they had last seen Meghan. Tyler said it had been three years since they had spoken, and Tracy said she hadn't seen her in at least 20 years.
Madeley said, "Well, then it doesn't seem unreasonable for you not to be invited, does it? I mean, if it's 20 years, you're pretty much on the fringes, aren't you, of the family, to be honest?"
At this point, everyone watching pretty much collapsed from secondhand embarrassment. As the interview went on, Tracy said she was "sure" that Meghan's father, Thomas Markle, would be walking Markle down the aisle.
"I've heard that he's going to be over there, and I'm sure that he will be giving her away. The arrangements are being made... I don't think he's waiting for his invitation, because I'm sure they already have the plans in place, and [from] me talking to him, he's very excited to be a part of it."
Twitter users had a lot of feelings about the awkward and, really, quite strange interview:
Well, that's that. We'll just be sitting over here, trying to forget we ever watched something that awkward.