Meghan Markle is being mom-shamed for how she holds Archie, and can we give her a break?
Being a parent is undoubtedly one of the hardest jobs in the world, but that doesn't stop social media trolls from providing endless commentary about the way others parent their children, especially women in the public eye.
The latest celebrity to be mom-shamed by a mob of commenters on the internet is new mama Meghan Markle, who took baby Archie on his first public outing at the King Power Royal Charity Polo Match on July 10th in Wokingham, England. The duo watched Archie's dad Prince Harry and uncle Prince William play a bit of polo alongside Kate Middleton and her three little ones, Prince George, Princess Charlotte, and Prince Louis, and it looked like the royals had a day of summer fun together.
While most people were delighted to see photos of the Duchess of Sussex and Archie, others mom-shamed her for the way she was holding him in photographs at the event, taking to both Twitter and the comments section on Instagram to criticize how she carried her little one.
Mom-shaming continues to be a disturbing trend for both famous and non-famous moms alike, and we've gotta say, we're 100% over it. Markle has done nothing wrong.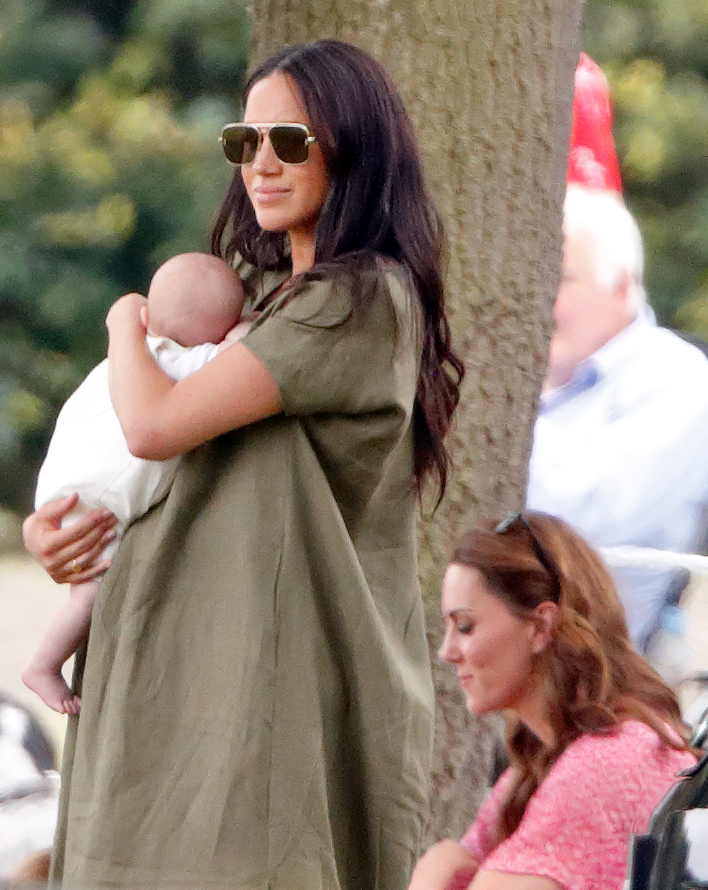 On Instagram, commenters had some harsh criticism upon seeing the photos of Markle holding her baby.
"Can someone please have mercy on that poor Archie and teach his mother how to hold him!" said one user, while another said, "Does she even know how to carry a child ? been 2 months already." Another even compared her parenting skills to her sister-in-law's, saying, "Meghan you need to learn to carry a baby from Kate, don't just be smart to spend money."
On Twitter, a couple of users were equally nasty toward her.
"Smother, I mean, Mother of the Year award goes to Meghan Markle! Archie looks so uncomfortable. Poor kid. Being used as a prop by her mother," one user wrote. "She can't have any maternal instincts at all. Archie's neck and whole body not supported by her at all. No sun hat to protect him," said another.
As Markle was being mom-shamed on social media, U.K.-based parenting expert Lucy Shrimpton (aka The Sleep Nanny) told Yahoo! Style that there is nothing wrong with the way Meghan chose to hold baby Archie.
Shrimpton said, "While parents will adopt their own styles of holding and comforting their babies in a range of ways, the way Meghan is pictured holding Archie is actually a commonly recommended hold."
She added, "She is supporting the majority of Archie's body with her right arm while he rests his head on her chest. Babies are comforted by this position and hearing mom's heartbeat too. So long as the face is to one side, which Archie's is, this is a wonderfully soothing way to hold to a baby."
Here's hoping that mom-shaming will someday end once and for all, because parenting is hard enough without the social media parenting police chiming in.