Meghan Markle asked her makeup artist to do her makeup for the royal wedding in the chillest way possible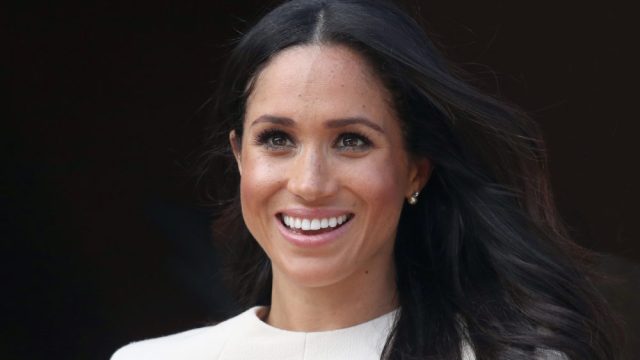 Our favorite new royal, Meghan Markle, may have married a prince and had a wedding seen by millions around the world, but that doesn't mean she isn't just like us — texts and all. In fact, makeup artist Daniel Martin made an appearance on Good Morning America on Tuesday, July 3rd, where he discussed the royal wedding and his close friendship with the Duchess of Sussex — and specifically the chill AF way she asked him to do her makeup for the big day.
As Martin told the hosts, "She [texted and] was, like, 'Hey, what are you doing May 19?' And then she sent me two emojis of the bride and groom."
Yes, Meghan Markle, the Duchess of Sussex, asked her bud to do her makeup via text with a super modest question and a couple of emojis. So clutch. Martin further explained with,
"Meghan and I communicate a lot through text because I travel for work and because of the time difference between the both of us, it's hard to get on the phone. So she sent me a text asking what I was doing the weekend of May 19th. I was like, 'I may be in Cannes for the film festival but what's up…' and she sent me the bride and groom emoji right back and I literally dropped my phone! Then she sent me the shhhh emoji back so I couldn't let anyone know.
Martin and Markle's friendship goes back years. In an interview with Elle, Martin noted that they've known each other since 2011. "We worked together on press junkets, editorials and red carpet appearances. Never on the show [Suits], though," he said.
Martin is no stranger to taking on major events for his clients. He's a celebrity makeup artist to several A-listers, a Dior Brand Ambassador, and an Honest Beauty Creative Color Consultant. Oh, and although the royal wedding was seen by so many millions, Martin said the morning before was "very chill" and stress-free.
Meghan, please never change.