Meghan Markle's makeup artist uses this $5 drugstore lotion as a highlighter hack
No one embodies the philosophy of "less is more" with makeup quite like Meghan Markle does. Lately, the Duchess of Sussex has favored a fresh-faced look that naturally highlights her features. Thankfully, we now know what she uses to get her coveted glow.
Daniel Martin—the makeup artist responsible for Meghan's wedding makeup—revealed the $5 ointment he uses to give his clients (Meghan, Jessica Alba, and Demi Lovato, to name a few) the illusion of highlight without having to apply actual highlighter. He told E! News:
"A lot of my highlighting is done with skin care...Before highlighters, you would do highlighting with Aquaphor. Aquaphor will give you that same texture, especially in a photo [when applied] on the high points of the face."
Aquaphor is made with petrolatum, which will stick to the skin and provide a smooth and even canvas for makeup, while still giving off a soft shine. Daniel admitted to E! News that he no longer uses the $5 ointment regularly. Now that he's a Dior ambassador and Honest Beauty creative color consultant, he uses the Dior highlighter palette and the Honest Beauty Balm.
But given that we know the makeup artist's highlighter trick, we're ready to try it out for ourselves. Not only is his hack easy and affordable, but it'll give you a lit-from-within glow—and that's always the goal, right?
If you are looking to follow suit, you can snag the Aquaphor Healing Ointment at Target or a nearby drugstore.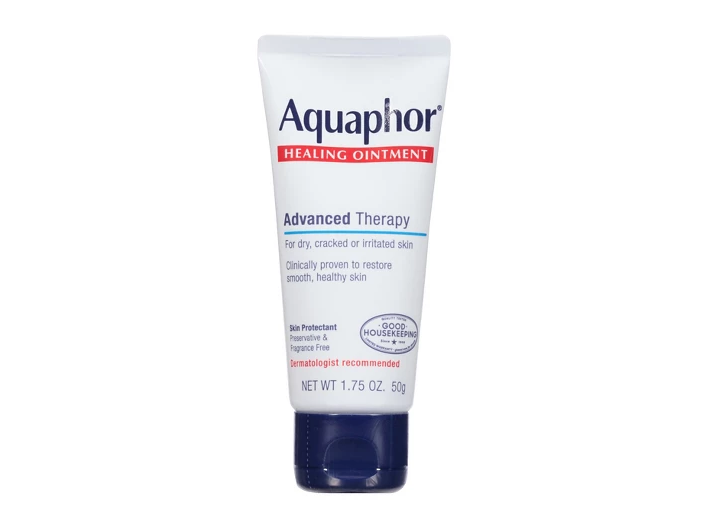 If you're looking to try a more minimal approach to makeup, this is the perfect product to add to your cart. If it's good enough for Meghan Markle, it's good enough for us.