There's a video of 11-year-old Meghan Markle fighting a sexist ad campaign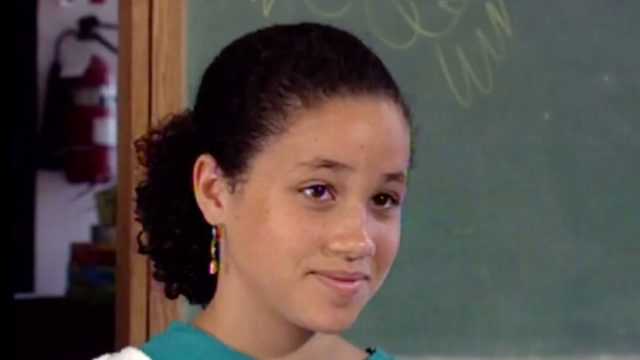 Just when we thought the royal engagement news couldn't get better, we found this interview of 11-year-old Meghan Markle fighting a sexist ad campaign, proving that she definitely has what it takes to be an inclusive and powerful voice for women everywhere.
According to Marie Claire, Inside Edition initially unearthed the 1993 clip from Nickelodeon, which shows Markle protesting a Proctor & Gamble ad for dish soap that implied housework is exclusively for women. Specifically, the ad said, "Women everywhere are fighting greasy pots and pans." Little Meghan Markle was not having it. "I said, wait a minute, how could somebody say that?" she explained to Nick News.
She added that many of the commercials on television imply that women do all the house work. "I don't think it's right for kids to grow up thinking these things," she said. "That just Mom does everything. It's always Mom does this, and Mom does that," she explained.
Markle didn't stop there. She wrote to Proctor & Gamble and asked them to change the language in their ad.
Amazingly, the company actually did it! The power of Markle is real.
Within a few weeks, the ad was changed to "people all over America are fighting greasy pots and pans."
The actress also noted that "just about one out of every three commercials is going to say something that's going to hurt somebody's feelings," which is why she recommended that people write letters and "send them to the right people."
Here she is making her case.
https://www.youtube.com/watch?v=tfaGleA4qYo?feature=oembed
As an ambassador to the United Nations, Markle once referenced her feat in an International Women's Day speech in 2015. She said,"I remember feeling shocked and angry and also just feeling so hurt. It just wasn't right and something needed to be done."
We already knew she was going to use her new platform for good, but this really seals the deal. We can't wait to see the positive impact Markle makes on the world.