Meghan Markle has her first Hollywood job since becoming a royal, and you can watch so soon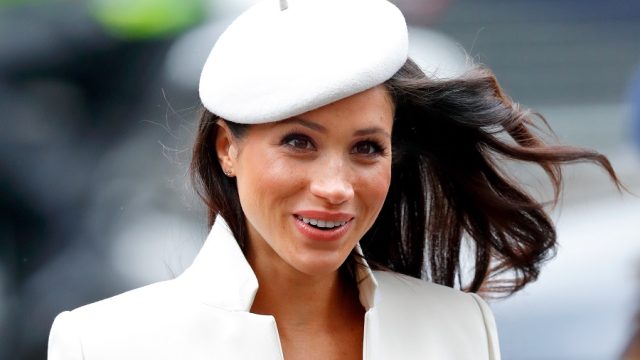 Update, March 27th, 2020, 10:24 p.m. ET: There's officially a new must-add documentary for your coronavirus (COVID-19) quarantine watchlist. No, we're not talking about Tiger King, but it is all about wild animals. Meghan Markle will narrate the Disney+ documentary Elephant, and it's coming to the streaming service on April 3rd.
Whispers about Markle's voiceover work started back in January with a report from UK publication The Times, but it hadn't been confirmed by Disney or the duchess until now.
On March 26th, Disney+ tweeted an announcement about Markle's involvement in the documentary, as well as its official poster.
Disney+ also posted a joint trailer of its new nature documentaries, Elephant and Dolphin Reef, which is narrated by Natalie Portman. "Elephant, narrated by the Duchess of Sussex," the trailer says.
Here's the official Elephant synopsis, according to Deadline:
"Elephant follows African elephant Shani and her son Jomo as their herd make a journey hundreds of miles across the vast Kalahari Desert. Led by their matriarch, Gaia, the family faces brutal heat, dwindling resources and persistent predators, as they follow in their ancestor's footsteps on a quest to reach a lush, green paradise."
Markle reportedly agreed to the voiceover work in exchange for Disney donating to Elephants Without Borders, a charity she has long been involved with.
Elephants Without Borders thanked Markle for her role, according to a tweet by royal reporter Omid Scobie today, March 27th.
"Thank you Meghan, because of you, this film brings knowledge and information to a global audience which in turn brings them closer to elephants. The impact will be global, reaching schools, most homes and more countries," the statement reads, in part.
We'd also like to thank Meghan for helping the elephants and for bringing us much-needed content as we practice social distancing from our homes.
Original post, January 13th, 2020: Meghan Markle and Prince Harry made a shocking announcement last week saying that they intend to step back as "senior" members of the royal family. In a statement, the Duke and Duchess of Sussex revealed that they're gearing up toward becoming more financially independent. And now, word on the street is their first move is in the works. While Markle is scaling back on her duties as a royal, she's reportedly shifting her energy toward a new but equally regal duty: becoming a Disney voice actor. If you think about it, this technically makes her a Disney princess.
Markle, who previously worked as an actress, has reportedly agreed to do voiceover work for Disney for an unspecified project, according to U.K. publication The Times.
But instead of receiving a monetary payment in exchange for her services, Markle made a deal with Disney to make a donation to Elephants Without Borders.
A wildlife conservation charity, Elephants Without Borders is an organization close to the couple's heart. They worked with the charity back in August of last year.
Neither Disney nor Markle have confirmed the deal. It's also not clear when it was signed, before or after the royals' decision to step down. If it does happen to be real, it's just the latest addition to Meghan and Harry's philanthropic initiatives. It also marks the duchess's first acting job since she quit showbusiness in 2018.
As if news of Meghan becoming a Disney princess weren't fascinating enough, it appears that Prince Harry was the one who helped her score the deal.
A video of him and Disney CEO Bob Iger recently resurfaced, and in it, the royal can be heard telling Iger that Meghan would be interested in doing voiceovers.
A clip procured by The Shade Room showed the whole exchange, with a surprise cameo from no other than Beyoncé. "You know she does voiceovers?" Harry told Iger to which he replied, "Oh really? Ah." Harry asked if Bob was aware of it, but his response was, "I did not know that." Harry then implied that Meghan was indeed interested, "You seemed surprised, but yeah, she's really interested." Bob eventually showed interest, "Sure, we'd love to try."
https://www.instagram.com/p/B7PombtBDMO
While the Disney gig is a charitable contribution, it does set a precedent for what sorts of projects we can expect from Meghan and Prince Harry. An actual Disney princess movie soon, perhaps? It never hurts to wish!