Meghan Markle's dad has an important — and unexpected — role in the royal wedding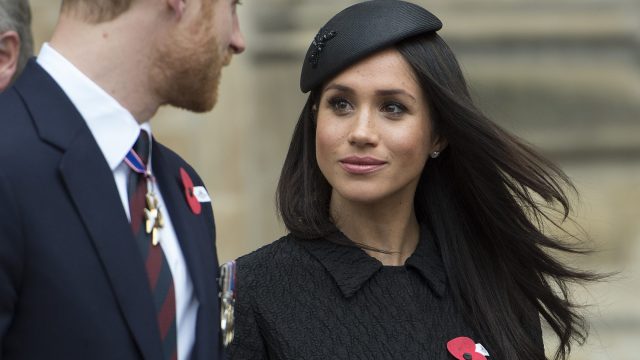 Now that it's May, the countdown to the royal wedding has officially begun. And despite rumors that Meghan Markle's family hasn't been invited to her and Prince Harry's May 19th wedding, we now know that her dad, Thomas Markle, and her mom, Doria Ragland, both have very specific (and important) roles in the ceremony.
On Friday, May 4th, Kensington Palace released additional details about the upcoming royal wedding (which is now just two weeks away), including more information about the roles Markle's parents will be playing in her big day. Though they split up years ago, Markle's mom and dad will both be there to help their daughter celebrate — despite what a note reportedly written by Markle's half-brother, Thomas Markle Jr., might have said about the entire family being left off the guest list.
Not only will Markle's mom ride with her to Windsor Castle for the ceremony, but when they arrive, her dad will walk her down the aisle.
The news came in the form of a statement from the communications secretary at Kensington Palace, and they've made what we can expect over the next couple of weeks very clear.
The statement reads,
"The first thing I would like to share is that Prince Harry and Ms. Markle are very much looking forward to welcoming Ms. Markle's parents to Windsor for the wedding. Mr. Thomas Markle and Ms. Doria Ragland will be arriving in the U.K. in the week of the wedding, allowing time for Prince Harry's family, including The Queen, The Duke of Edinburgh, The Prince of Wales, The Duchess of Cornwall, and The Duke and Duchess of Cambridge, to spend time with them before the big day."
So not only will they be part of the wedding, but they're also meeting the whole royal fam before things get real. (And yes, we're more than a little jealous that Markle's parents get to meet the queen.)
"Both of the bride's parents will have important roles in the wedding," the statement continued. "On the morning of the wedding, Ms. Ragland will travel with Ms. Markle by car to Windsor Castle. Mr. Markle will walk his daughter down the aisle of St George's Chapel." Kensington Palace added that Markle is excited to have her parents along for the ride on her wedding day.
There you have it, folks — everything's fine between Markle and her parents, and they will definitely be there on May 19th. Now let's give the bride-to-be a little room to chill. After all, she is joining the royal family in a matter of days. Planning a wedding is stressful enough.