Court Docs Reveal Meghan Markle Felt "Unprotected" by the Royal Family During Her Pregnancy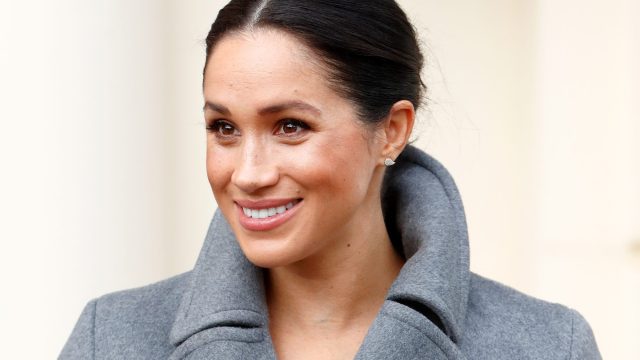 Some more information has just been revealed in Meghan Markle's ongoing legal battle with Associated Newspapers, the publisher of British tabloid Mail on Sunday and Mail Online, which published private letters between Markle and her father. New court documents obtained by E! News reveal that Markle was "prohibited from defending herself" after the letter was published, in keeping with the monarchy's practice of providing no comment to the media.
In particular, the filing addresses questions from Associated Newspapers regarding an interview Markle's friends conducted with People in February 2019. According to the documents, her friends were driven to publicly defend Markle after seeing how much distress the media's intrusion had caused her.  
"She had become the subject of a large number of false and damaging articles by the U.K. tabloid media, specifically by the [Mail on Sunday], which caused tremendous emotional distress and damage to her mental health," the documents say. "As her friends had never seen her in this state before, they were rightly concerned for her welfare, specifically as she was pregnant, unprotected by the Institution and prohibited from defending herself." 
According to E!, Markle's lawyers assert that the duchess had no prior knowledge of her friends' interview with People, despite rumors to the contrary. Rather, the documents state that Prince Harry informed her of the article. Had she known about the article before it was published, Markle "would have asked the KP Communications Team to say on the record that she had not been involved with the People magazine article, as she had not been."
Markle has
previously opened up
about how negative attention from the British press took a toll on her mental and emotional health, especially during and after her pregnancy with her son Archie.
In an ITV documentary Harry & Meghan: An African Journey, Markle told host Tom Bradby, "Any woman, especially when they're pregnant, you're really vulnerable, and so that was made really challenging." When Bradby asked whether it was fair to say that she was not okay, Markle replied, "Yes."
The duchess is suing Associated Newspapers for "alleged misuse of private information, copyright infringement, and breach of Britain's Data Protection Act," as NBC News reports. The suit is being privately funded by Markle and Prince Harry. Markle will donate any potential damages she's awarded to an anti-bullying charity.   
The lawsuit faced a setback in May, when Judge Warby struck down key claims in the duchess' suit and ruled in favor of the publisher. Despite this hurdle, we hope justice will be properly served in the end.