Meghan Markle had a secret life as a calligrapher before she was famous, and her handwriting is impeccable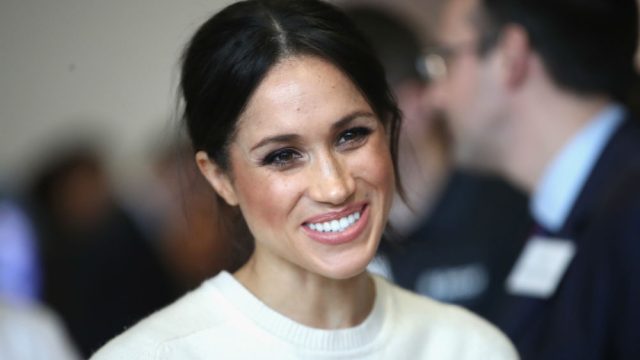 It's hard to not feel curious about Meghan Markle's life — after all, she was just a normal American citizen before she met Prince Harry and became the soon-to-be first American to join the royal family since 1937, not to mention the first biracial person to ever become part of the British royal family. Well, okay, she was a famous actress before meeting Harry, so she wasn't exactly "normal," but you know what we mean. If you're curious about Markle's early life, you're (very) not alone. And we now know that Markle was a calligrapher before she was famous, and unsurprisingly, her handwriting is impeccable.
Did we ever think we needed to know about Markle's past as a calligrapher?
Not really, but that doesn't mean it isn't fun to learn about. At this point, it seems like Markle can do just about anything well, so we can't say we're surprised that her handwriting is as close to perfect as it gets. People recently reported that Markle worked as a calligraphy instructor at a Paper Source location in Beverly Hills, California from 2004 until 2005. This was before Markle broke into the acting world.
Paper Source CEO Winnie Park told People, "It was her part-time job as she was going through auditions. She taught calligraphy and hosted a group of customers and instructed them during a two-hour class on how to do calligraphy."
Imagine being one of those students reading the news and realizing a future member of the British royal family once taught you how to write beautifully? Wild!
Take a look at a sample of Markle's calligraphy below.
Park had nothing but good things to say about Markle: "She's someone who really enjoys the creative aspects of the job, who enjoys helping people, and also someone who enjoys making creative projects come to life."
Markle went on to work as a freelance calligrapher, and even did the wedding invitations for Robin Thicke and Paula Patton's wedding in 2005.
Markle has talked about her love of calligraphy before. In an interview with Good Housekeeping in May 2017, she said, "I used to be a calligrapher for weddings and events — that was my side job while I was auditioning. I think handwritten notes are a lost art form. When I booked my first [TV] pilot, my dad wrote me a letter that I still have. The idea of someone taking the time to put pen to paper is really special."
Now, the only question is this: Why didn't she write out her own wedding invitations? Kind of a missed opportunity.