Meghan Markle will reportedly break royal tradition by giving her own wedding speech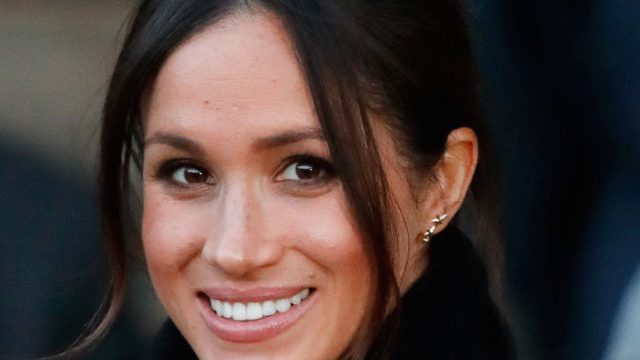 Just when you thought you couldn't love Meghan Markle any more than you already do, she does something extremely cool to make your love grow. The latest news about the upcoming royal wedding between Markle and Prince Harry is just one example. That's because Markle will break tradition by giving her own wedding speech, and we are so here for it.
Markle and Prince Harry are getting married on May 19th, 2018 in St George's Chapel at Windsor Castle. From the moment they got engaged, it was obvious that this wedding would be different from any other royal wedding we've seen so far. And now, The Sunday Times has reported that Markle is planning to deliver her own speech to Prince Harry at their wedding reception, which is a total departure from royal tradition.
The Times says Markle is planning an "affectionate" tribute to Prince Harry. She'll also offer her thanks to Queen Elizabeth, her family, and her friends — and, as the Times says, "there may even be a couple of jokes."
Normally, at a royal wedding, the bride's father would speak on her behalf, and other speeches are reserved for the groom and the best man. However, Markle's father reportedly doesn't want to speak. Thomas Markle, 73, is a former Hollywood lighting director who is known for being very private. Although he's walking his daughter down the aisle, he apparently doesn't want the spotlight on him at the reception. A source explained:
"The feeling is if Meghan's father doesn't speak for her, she wants to have the chance to thank her husband and everyone who has supported them. Harry thinks it's a great idea."
To which we have to say: we don't blame her, and of course he does. Just a few weeks ago, Markle appeared in a video on Twitter in which she made a remark about Prince Harry being a feminist.
So it makes sense that Prince Harry is supporting Meghan's decision to make her own wedding speech. And honestly, why shouldn't he? This certainly isn't the first time Meghan and Harry are breaking with royal tradition. For one thing, their entire engagement is brand new for the royal family: Markle will be the first American to marry into the family in over 80 years, and she'll also be the first woman of color to marry in ever. Markle has also been married before (divorce has been extremely controversial in the royal family).
The wedding itself will also be unique. It's taking place on a Saturday, while most royal weddings happen on a weekday. A royal etiquette expert told E! News that the couple's engagement photos were more contemporary than others, saying they're "much more intimate" and "not very royal."
It's pretty clear that Markle was made to deliver her own wedding speech. Markle has impressed viewers with her acting on Suits for years, and she previously gave a fantastic speech at a UN gathering in 2015. There's no doubt she'll do an amazing job. And hey, think about the wedding speech beloved TV character Miriam Maisel gave for herself at her wedding (it was excellent).
Sure, that was a fictional story in a fictional show, but you get the point. Markle is going to blow everyone away with her words. We can't wait to see what other traditions she decides to break away from next.