Megan Thee Stallion's "Hot Girl Summer" song with Nicki Minaj is the anthem we've been waiting for—listen!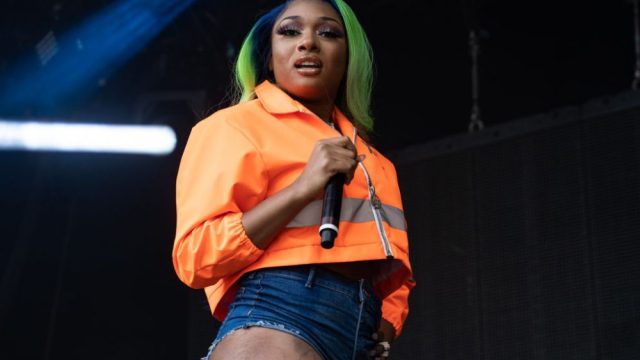 It's officially the summer of Megan Thee Stallion. The rapper's first full-length album, Fever, has made her a rapper to watch, and when she declared summer 2019 Hot Girl Summer, everyone wanted to be a Hot Girl. And now that August is here, Megan is making sure that the summer energy keeps going with a new song named after her viral slogan.
Megan dropped the single "Hot Girl Summer" on August 9th. The track features fellow rappers Nicki Minaj and Ty Dolla $ign. Juicy J produced the song, and it also samples City Girls' "Act Up," according to Pitchfork. It's a dance-able ode to self-confidence, with Megan rapping in the pre-chorus, "Got a whole lot of options 'cause you know a bitch poppin' / I'm a hot girl so you know ain't shit stoppin'."
The Houston native announced her new single with an Instagram post on August 5th, in which she also unveiled the artwork for the single.
"REAL MF HOT GIRL SHIT 🔥🔥🔥 THE HOT GIRLS TOOK OVER THE MF SUMMER SO IT WAS ONLY RIGHT TO GIVE THE HOTTIES THE OFFICIAL TRACK !!! HOT GIRL SUMMER FT. @nickiminaj and @tydollasign dropping 8/9 🔥🔥🔥🔥" she wrote.
https://www.instagram.com/p/B0zIngNFN-q
As Megan explained to The Root at the BET Awards in June, the concept of a Hot Girl Summer is about "women and men being unapologetically them, just having a good-ass time, hyping up your friends, doing you, not giving a damn what nobody got to say about it." (She also clarified that being in a relationship doesn't stop you from having a Hot Girl Summer.) Her new song is the perfect embodiment of this idea.
Listen to "Hot Girl Summer" below.
Fans are loving Megan's new collab.
https://twitter.com/udfredirect/status/1159705182269300737
https://twitter.com/udfredirect/status/1159684796496449537
false false
Someone even had this genius suggestion.
If you need us, we'll be dancing to Megan's new track and hoping that this Hot Girl Summer lasts forever.