Megan Thee Stallion Called Out Glamorizing Abuse After Being Shot
There are so many things wrong with Draya Michele's "joke."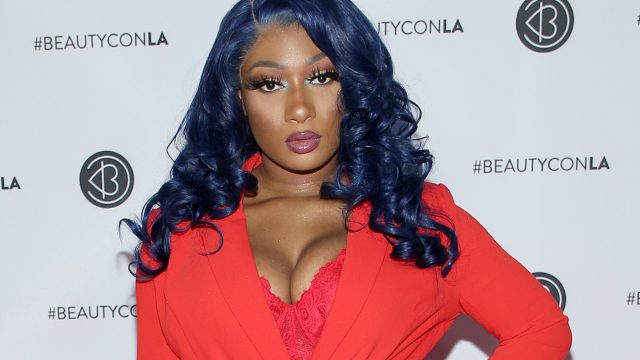 Trigger warning: This post mentions domestic violence.
Of the variety of subjects that a person can reasonably make light of, domestic violence is always, forever, and 100% off the damn table. Apparently, this is something former Basketball Wives LA star Draya Michele does not understand—and now, Michele is apologizing to Megan Thee Stallion, the subject of her extremely misguided joke.
On the July 22nd episode of the Wine and Weed podcast, Michele discussed what she believed caused the July 11th incident between Megan Thee Stallion and rapper Tory Lanez, in which Lanez allegedly shot Megan in the foot. The shooter hasn't been publicly identified, but Lanez was arrested the following day for carrying a concealed weapon in a vehicle.
"I predict that they had some sort of Bobby and Whitney love that, you know, drove them down this snapped-esque type of road," Michele said on the podcast, referring to the late Whitney Houston and her allegedly abusive relationship with her husband, Bobby Brown. "And I'm here for it. I like that. I want you to like me so much that you shoot me in the foot, too." 
There are so many things wrong with this "joke" that we don't even know where to begin. 
Unsurprisingly, Twitter users were equally disturbed by Michele's comments as we are. In the wake of all that backlash, Michele tweeted that she "[doesn't] glorify domestic violence," and apologized to anyone she offended with her remarks, "including meg."   
The "Hot Girl Summer" rapper took to her own Twitter shortly after Michele posted her apology. "Dumb bitch that shit ain't fucking funny," she wrote. "who tf jokes about getting shot by a n—."
In a subsequent tweet, Megan wrote, "And fuck all the hoe ass n— making jokes about it to. I'll talk about shit when I get ready."
Megan first addressed the altercation in a July 16th Instagram post, where she clarified that she was not arrested, despite inaccurate reports to the contrary.
"On Sunday morning, I suffered gunshot wounds, as a result of a crime that was committed against me and done with the intention to physically harm me," she wrote. "I was never arrested, the police officers drove me to the hospital where I underwent surgery to remove the bullets."
"I'm incredibly grateful to be alive and that I'm expected to make a full recovery," she added.
We sincerely hope that Megan receives whatever physical and emotional support she may need to recover from the "traumatizing" incident, as she referred to it on Twitter. And one more time, for the people in the back: Domestic violence, gun violence, or any kind of abuse whatsoever—whether physical, verbal, or emotional—cannot be the subject of a joke or glamorization.
If you are a survivor of domestic violence and need help, contact the National Domestic Violence Hotline at 1-800-799-SAFE (7233). You are not alone.