Megan Mullally accidentally bought a $4,000 sweatshirt and we hate when that happens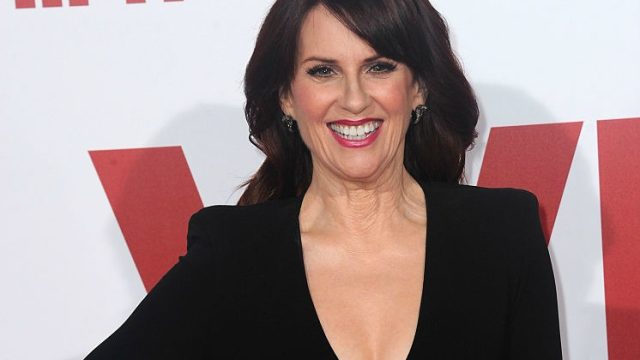 Ugh! Don't you hate when you forget that you're not rich and you buy something – by accident – that is completely out of your price range? So does Will and Grace's Megan Mullally, who bought a $4,000 Valentino sweatshirt – by accident. We have to stress the "by accident" because a $4,000 hoodie just seems silly (although hey, if you're in the market for a $4,000 sweatshirt, we are NOT judging!).
Mullally stopped by Conan to promote her new comedy, Why Him?, being released December 23rd. During her segment, Mullally chatted to O'Brien about putting her Why Him? costar, Bryan Cranston, in a headlock. She also shared how she and husband, Nick Offerman, went through a "digital detox." But the most riveting story of the evening was how Mullally managed to purchase a designer hoodie while in New York, for $4,000 smackaroos – BY ACCIDENT!
"It might have even been $4,200." Mullally painfully laughs. Listen to her whole story below:
"And I said, 'hey let's just pop over there. We're not going to buy anything, because it's too expensive. But we'll just go over there and pretend that we're rich,'" Mullally explained her über relatable thought process. Sadly, even more relatable, was the fact that the seemingly inexpensive navy blue hoodie was actually the equivalent to several months of rent.
"So, if you're looking for a bargain – I'm your gal," Mullally joked.
The former Will & Grace star makes up for her egregious error by reporting that she bought her beautiful navy blue velvet pantsuit at a San Francisco thrift shop for $120. We're back to believing she is the bargain queen. That is quite the deal.
Mullallystars alongside Cranston in Why Him?, about a family holiday gathering that gets derailed when Mullally and Cranston's daughter (Zoey Deutch) brings home a rich but questionable boyfriend (James Franco). You can catch Why Him? in theaters starting tomorrow, December 23rd.