Meg Ryan revealed a surprising tidbit about the orgasm scene from When Harry Met Sally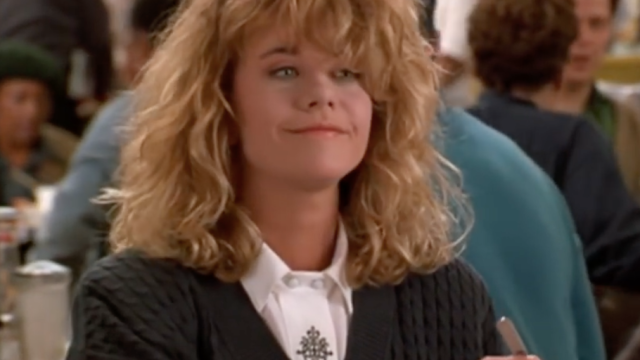 When Harry Met Sally is a national treasure. Meg Ryan and Billy Crystal really did the damn thing with that one, which is why we still watch that movie year after year and will still compare all "OMG" movie moments against its iconic orgasm scene. Speaking of that infamous Katz's Delicatessen scene, did you know that faking an orgasm out loud in the deli was Ryan's idea?
In the film, the characters discuss the idea that women fake orgasms and how would Harry ever know the difference. That's where the scene was supposed to end. When they got to set, Ryan was like, "I have an idea."
"It was in the script that Harry and Sally talk about the fact that women fake orgasms. Then, when we were rehearsing that movie, we had a lot of time to chat about the script, and I said that since Sally is such a behavioral character, she should fake an orgasm. That was my contribution," Ryan told The New York Times in a new interview.
Ryan has given us so many delightful rom-coms, but it's no secret that the actress has mostly stepped away from the limelight in the last decade or so. "I think the feeling with Hollywood was mutual. I felt done when they felt done, probably," she said. She hasn't missed the biz and enjoys her freedom a lot.
"I can go places like a TED conference. I can go to Cambodia and travel around. I'm writing. I'm hoping to direct. I have a passion for design. I take pictures," she added.
Because of the recent romantic comedy resurgence and the millennial obsession for all things nostalgia, now would be the perfect time for Ryan to make a comeback if she wanted to. She did mention in the interview that she has a rom-com script in the works that she's hoping to direct and another comedy for NBC that she's producing. Tbh, the world needs more of that Meg Ryan charm.