Scarlett Johansson, Chris Evans, Paul Rudd, and the rest of the Avengers: Infinity War cast read mean tweets about themselves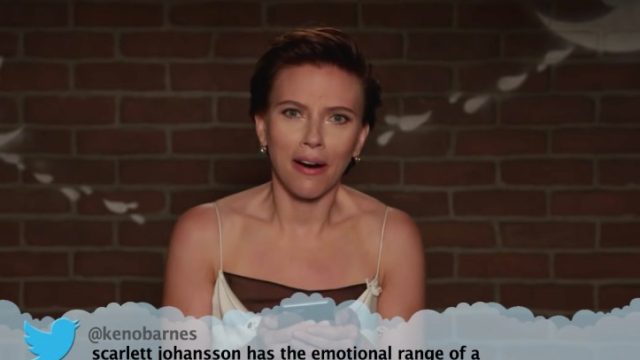 As you've undoubtedly noticed, the cast of Avengers: Infinity War has been hitting up the talk show circuit a ton lately due to their April 27th film debut. So it just makes sense that Jimmy Kimmel Live would round up as many cast members as they could for a very special Avengers-themed version of Mean Tweets on his April 30th show.
By now, you've probably heard of Mean Tweets. Celebrities are forced to read some of Twitter's cruelest comments about them on national television — it's funny, we promise. This round included the likes of Scarlett Johansson, Chris Pratt, Anthony Mackie, Chris Evans, Chadwick Boseman, Elizabeth Olsen, Samuel L. Jackson, and so many more.
Take a look at the below to revel in the Mean Tweet glory (and also, check out Elzabeth Olsen's weird thumbs. Who knew?)
https://www.youtube.com/watch?v=OrnpSe4OChM?feature=oembed
Also, re: someone pointing out that Tom Holland seems like the kind of person who claps when a plane lands: You know what? We can see it. We also absolutely loved watching Chris Evans crack up while reading his, as well as Chris Pratt's perfect deadpan. Basically, we're going to be watching this several more times before the day is through.
And no matter what, the cast of Avengers: Infinity War shouldn't let these tweets get them down. Deadline.com reports that the movie has already made a whopping $640.9M…so they're probably doing just fine.