Mean Girls didn't win any 2018 Tony Awards, but they totally swept the meme category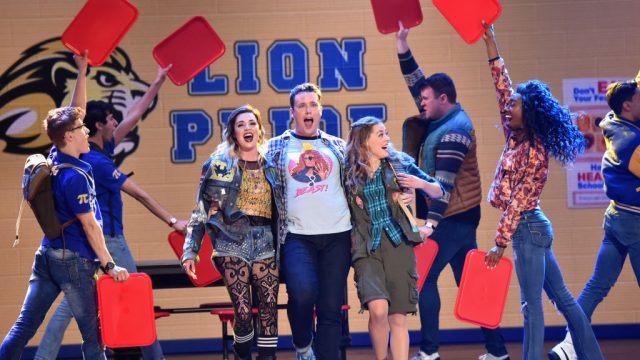 Despite being up for 12 nominations, Tina Fey's musical adaptation of her 2004 film Mean Girls went home empty-handed at the 2018 Tony Awards. It was actually the most-nominated show (along with SpongeBob SquarePants: The Musical), but by the end of the night, Mean Girls the musical ended up as the Gretchen Weiners of the 2018 Tonys. However, the show's epic loss spawned the greatest meme to come out of the awards show.
In the classic film, Damien (dressed as Santa Claus) drops off candy cane grams to everyone except Gretchen Weiners and then delivers one of the film's most memorable lines:
"Taylor Zimmerman?" Damien as Santa Claus asks. "Two for you. Glen Coco, four for you Glen Coco, you go Glen Coco! Cady Heron, do we have a Cady Heron here? Here, Cady, here you go, one for you, and none for Gretchen Weiners, bye!"
When the Tony Awards handed out awards to, well, mostly The Band's Visit (good for you The Band's Visit), everyone on Twitter made the exact same joke, and it was a very good joke.
Below, the "and none for Gretchen Weiners" moment from the movie:
https://www.youtube.com/watch?v=nnjWmz4lB2U?feature=oembed
And here, the glorious tweets it inspired:
false false
https://twitter.com/udfredirect/status/1006009048901345281
It's the same joke over and over and yet still great each time.
Sure, it is disheartening that Mean Girls lost in each of its nominated categories, seeing as they were up for some primo Tony Awards like Best Musical, Best Book, Best Original Score, and Best Leading Actress, to name a few.
https://www.youtube.com/watch?v=ldgh9wETQ6Y?start=245&feature=oembed
However, other millennial faves like Harry Potter and the Cursed Child, Parts One and Two, took home awards for Best Play and Best Direction, so all was not lost for children of the aughts at the 2018 Tony Awards.