23 totally fetch facts you probably never knew about Mean Girls
Our favorite teen movie of the '00s, Mean Girls, will never get old. In fact, we're pretty sure it will remain one of the most quotable movies forever. And while we've seen the movie many, many times and know all of the characters like we know our best friends, there are still a few secrets about the iconic film that surprised us. Read on for some little-known Mean Girls facts that will make your jaw drop like Karen's when Regina said, "Boo, you whore."
1Tim Meadows' hand was actually broken during filming, which is why he wears a cast in the movie.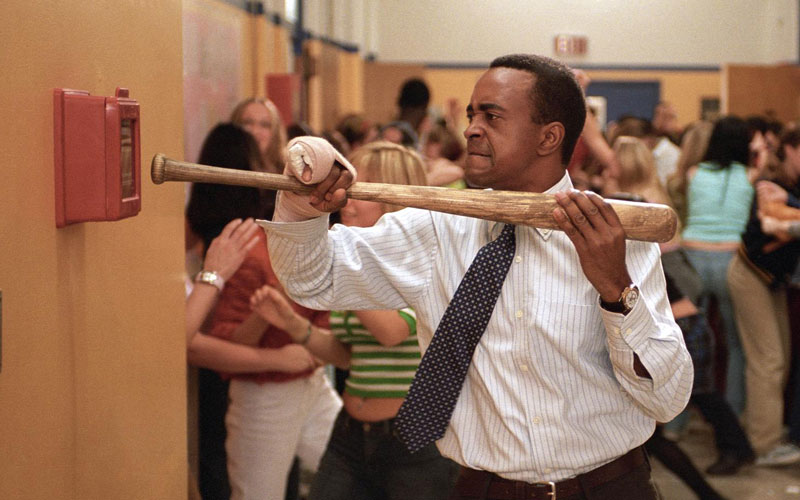 According to Tina, he broke his hand the week before shooting started, and they created the carpal tunnel backstory as a cover.
2Lindsay Lohan originally wanted to play Regina George.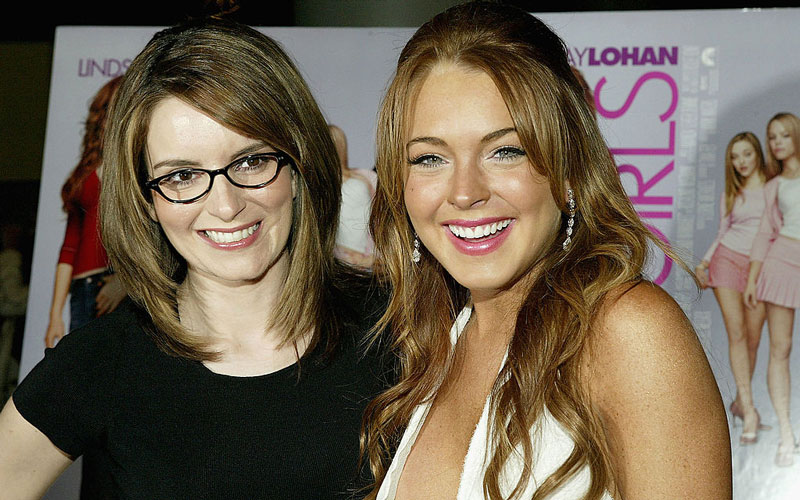 After Freaky Friday became a big hit, studio executives insisted that Lindsay play the lead, Cady.
3Alec Baldwin's character in Glengarry Glen Ross was considered a "template" for Regina George.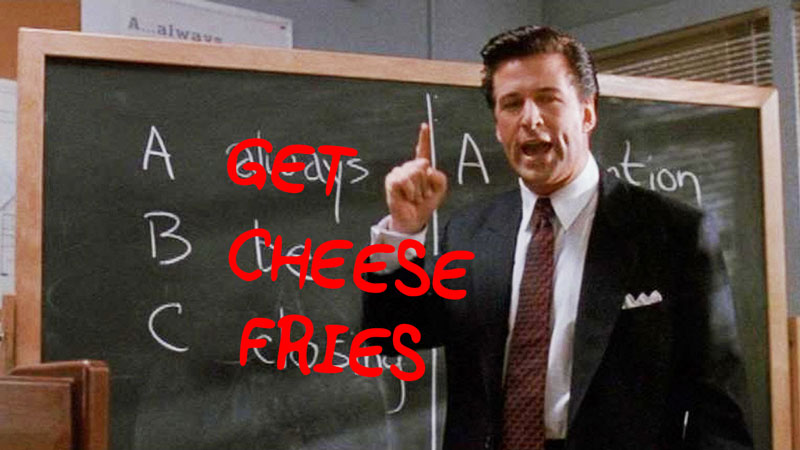 Alec's brief but impactful performance as the motivational speaker from hell, Blake, is famously aggressive, and the filmmakers even told Rachel McAdams to watch it.
4Amy Poehler is only seven years older than her fictional daughter Rachel McAdams.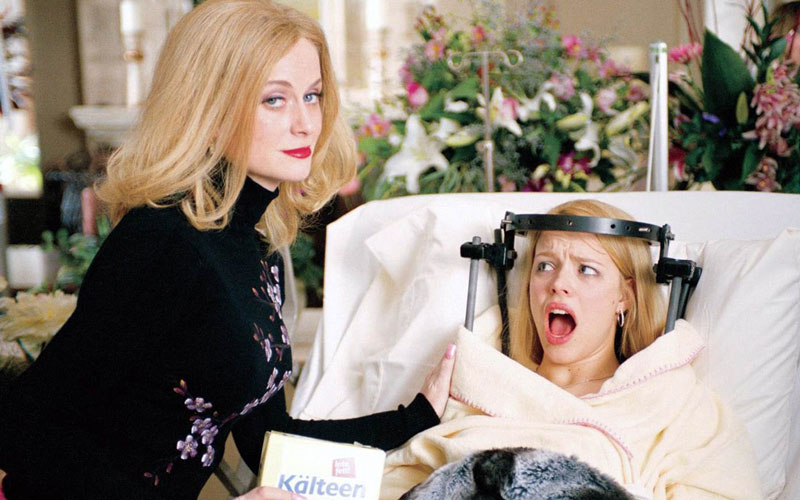 In fact, the costume designers had to cleverly figure out how to make Amy look like an older woman dressing young like a teenager without just making her look like a teenager.
5Amanda Seyfriend almost played Regina.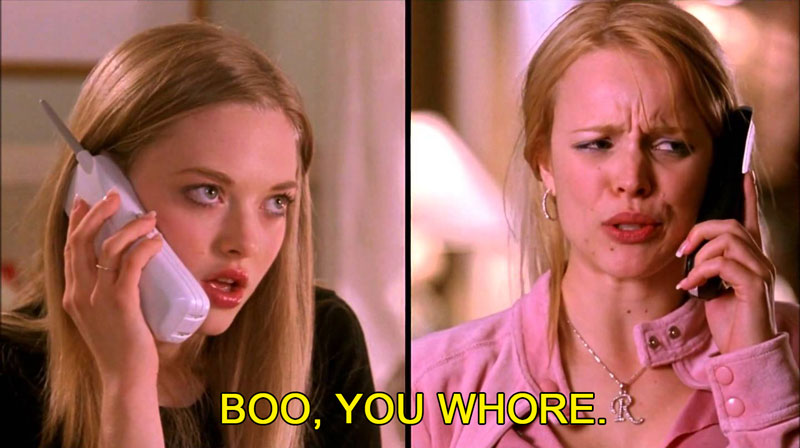 The producers loved Amanda but felt Rachel's audition fit better for the role. It was Lorne Michaels' idea to cast Amanda as Karen.
6Just like her character Karen, Amanda Seyfried REALLY CAN stick her fist in her mouth.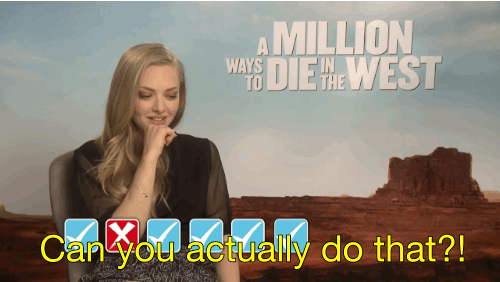 During a Mean Girls-themed quiz with Radio Times, Amanda actually demonstrated this talent.
7According to Tina Fey, Gretchen's speech about the Plastics' rules is lifted straight out of the book Queen Bees and Wannabees.
This is the title of the nonfiction book that Tina Fey used as inspiration for the movie.
8Lacey Chabert, who played Gretchen Wieners, turned 21 years old while they were filming the movie.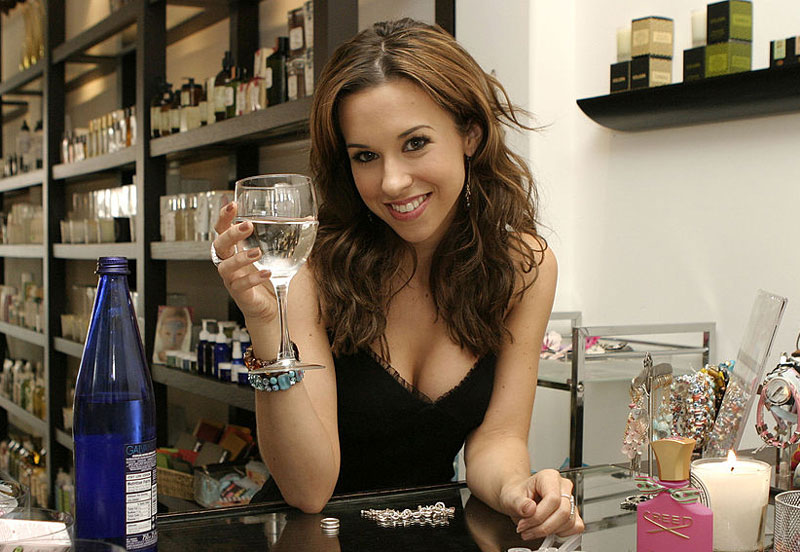 The crew brought out a cake for her while they were shooting the mall scene and embarrassed her in the best way possible.
9Janis Ian is also the name of a famous singer from the 1970s whose song is featured in the movie.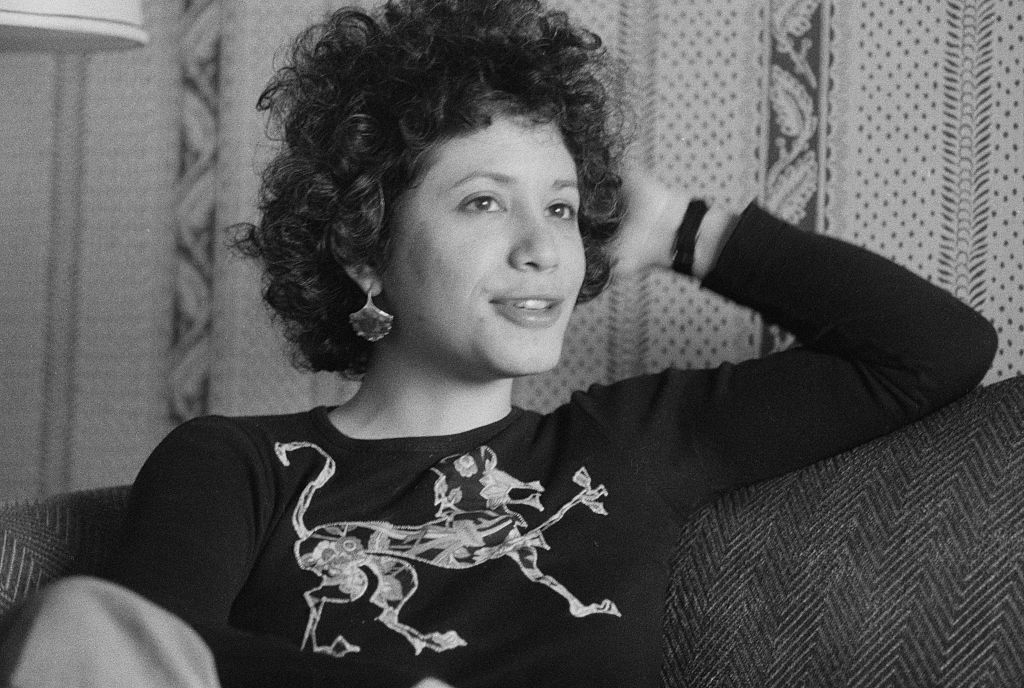 She wrote the song "At Seventeen,"which plays when Regina is crying about being "half a virgin."
10"Talk to me again and I'll kick your ass" is producer Lorne Michaels' favorite line in the movie.
This line is said by a character called Kristen Hadley, one of the members of the Lady Lions Lacrosse team.
11And btw, the kid that Kristen Hadley makes out with right after talking to Cady? Well, this was actually his first kiss IRL.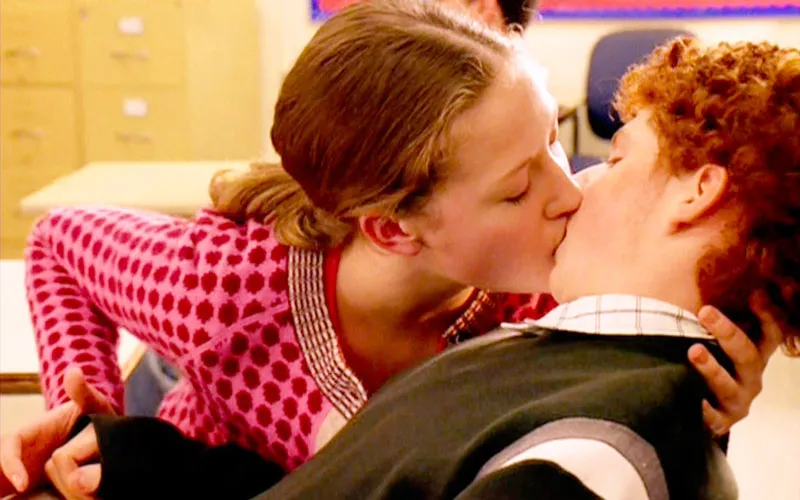 And there were multiple takes, according to director Mark Waters. So, it was his first, second, third, etc.
12According to Waters, one of Cady's mathlete teammates is actually meant to be Trang Pak's brother.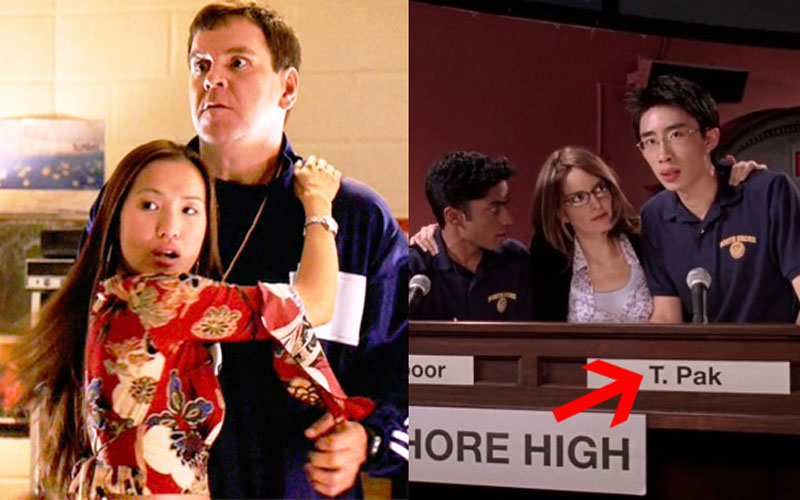 His name is Tim Pak, and we bet you never noticed his name sign!
13Tina said Shane Oman (Regina's BF after Aaron) is actually named after a stage manager at Second City.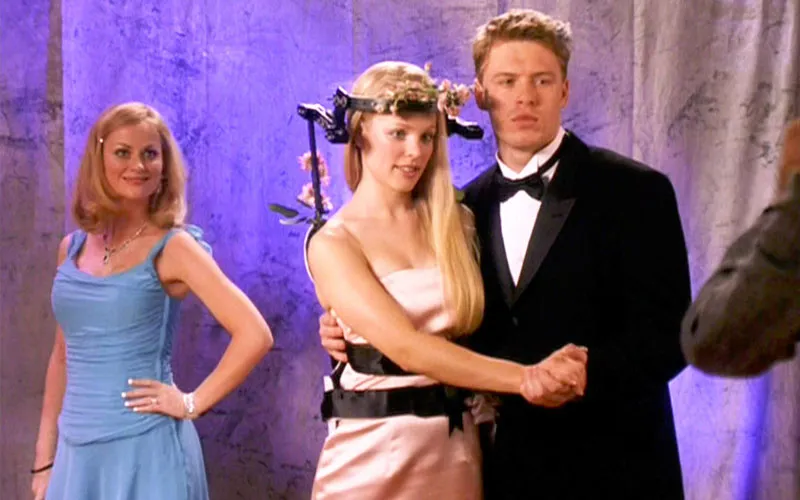 Tina was a performer at Second City in Chicago in the '90s where, of course, she met her BFF Amy Poehler.
14Glen Coco is named after a real-life friend of Tina's from home.
Apparently Tina's all about the awesome personal shout-outs.
15Speaking of Glen Coco, he was played by Canadian actor David Reale, who had actually auditioned for another role in the movie.
https://www.instagram.com/p/6SeOtxsphD
And it turns out he's quite famous in Canada, even though we never see his face in Mean Girls.
16This deleted "awkward shopping" scene between Cady and her mom was actually Tina's favorite (on paper).
But she didn't miss it once it was cut.
17The "ugliest effing skirt" moment was inspired by Tina Fey's mom.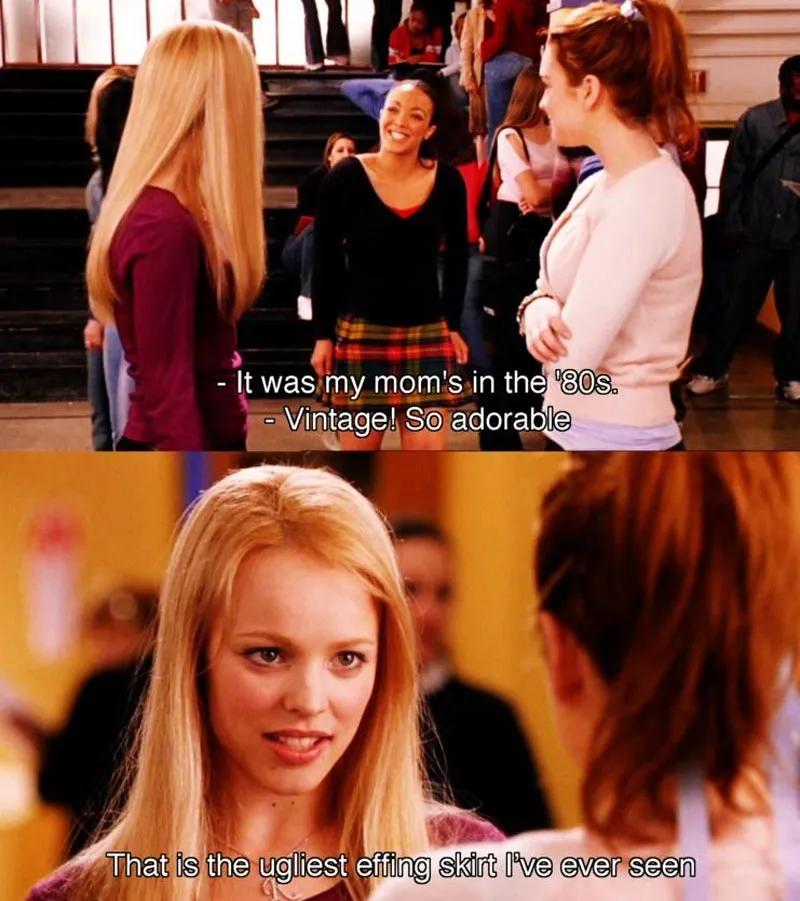 Tina explained, "My mom has this habit that if she sees a lady in a really ugly hat or a glittery sweatshirt, she'll go, 'I love your shirt' and I'll say, 'Mom, that's really mean.' And she'll say, 'Clearly she wanted someone to notice that shirt. She picked it out. It has a huge teddy bear on it.'"
18Costume designer Mary Jane Fort got yearbooks from small towns to research what kids in those schools would be wearing.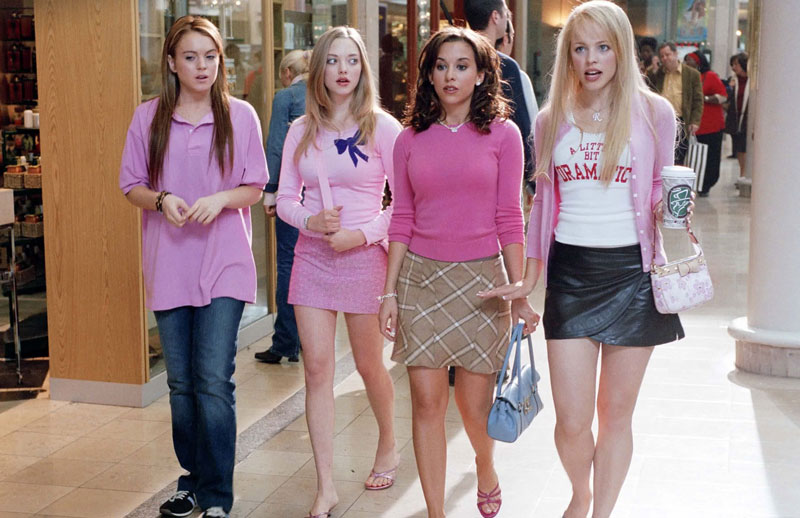 They wanted to figure out what teens who didn't live in Los Angeles or New York would be wearing in order to give their styles an authentic feel.
19Lindsay had over 50 costume changes throughout the movie.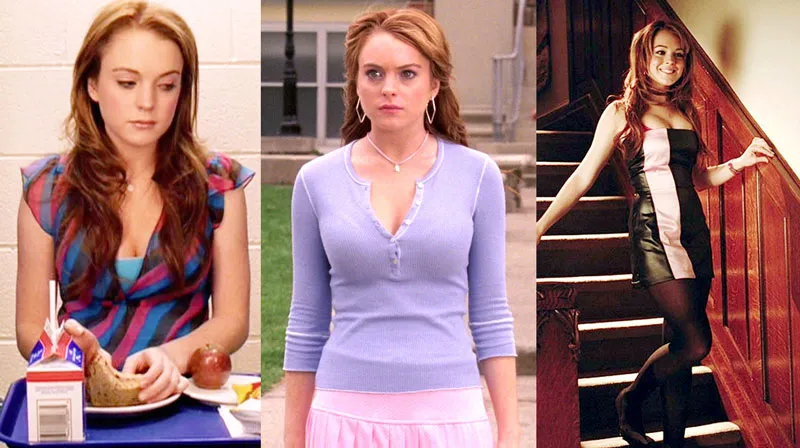 Mary Jane Fort estimates it was somewhere around 59, while the other girls had over 30 changes.
20And this was Mark Waters' least-favorite outfit.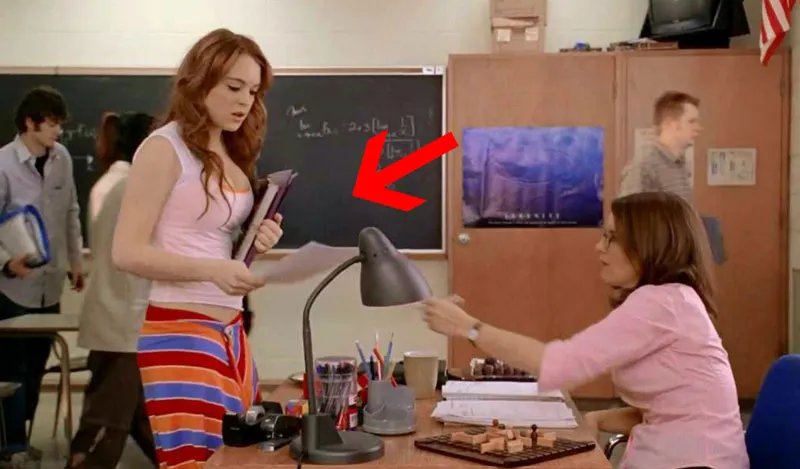 Waters decided he didn't like it, largely because of the skirt, but it was too late to change Cady's outfit because they had already established it earlier during shooting.
21At the Halloween party, Aaron was supposed to be in a Cubs Jersey.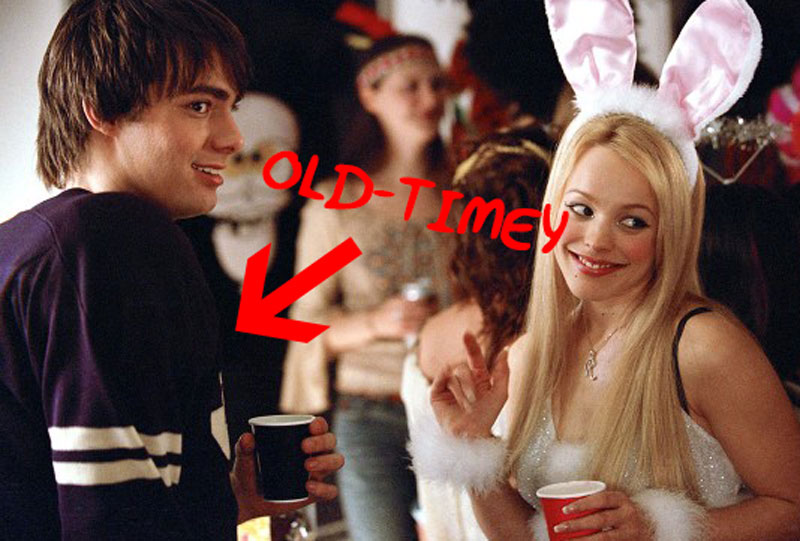 The jersey had an actual player's name on it, but the film couldn't get the rights, so they just went with an "old-timey" football player costume instead.
22Tina Fey said that she and Amy Poehler coached Kevin Gnapoor on his rapping.
And we think they did an A+ job.
23And finally, this is what Tina Fey's very own high school ID looked like.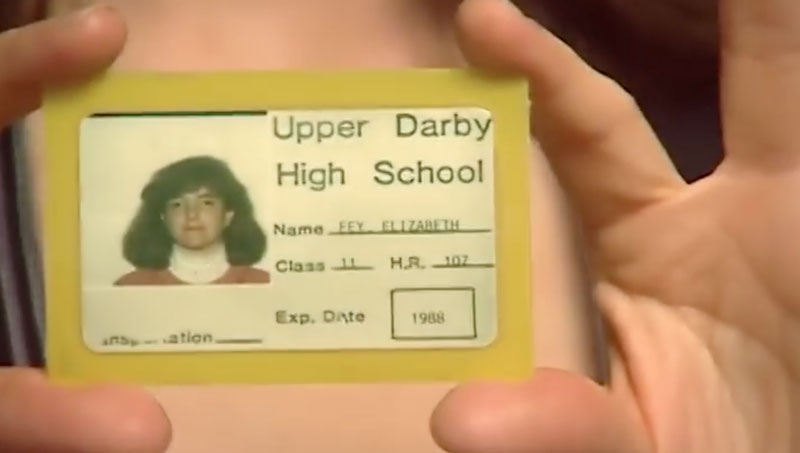 Why she still carries it? Nobody knows, but it's golden and we love it. Just like Tina.