8 meal prep recipes that you don't even have to heat up later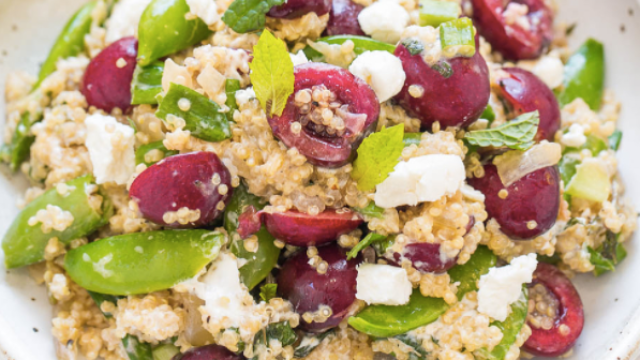 We are enthusiastic advocates of the art of the meal prep Honestly, is there anything better than having delicious meals you can prepare over the weekend that will literally give you hours of your life back during your already hectic workweek?!
But as great as it is, taking the time to plan your meals for the week isn't totally foolproof. After all, what happens when you decide to bring your tasty homemade meals to work or somewhere you don't have access to a microwave, stove, or other such device to warm it up?
That's where these genius meal prep recipes come in. These easy-to-assemble recipes are perfect because they don't require any reheating.
Now you'll really have no excuse not to have healthy, homemade meals for the entire week.
1Baked Buffalo Chicken Casserole
Because this baked buffalo chicken casserole from Meal Prep on Fleek requires precooked chicken, you can absolutely enjoy it cold during the week. Throw it over a bed of lettuce of your choosing, and you have a super tasty (yet deceptively healthy!) weekday meal.
2Chicken Burrito Bowl
This insanely good chicken burrito bowl from Damn Delicious is like a homemade version of your fave Chipotle meal — without the steep price tag and the excess calories. Win! It can be enjoyed warm or cold, so you can get your daily dose of protein, fiber, and flavor no matter where your day takes you. Amazing.
3Grilled Veggie & Black Bean Bowls
This vegetarian meal prep recipe from Sweet Peas and Saffron is a truly tasty way to get in your daily dose of veggies…no reheating required. Just chop and grill the veggies (which saves time on clean up!), cook the quinoa, prepare the homemade BBQ vinaigrette dressing, and boom! You've got a bangin' BBQ inspired lunch all week long.
4Tomato, Corn, and Avocado Salad
Who says salad has to be boring? This summer-inspired salad from Healthy Gluten-Free Family takes just minutes to prepare and can be made in large batches, making it the ideal meal prep lunch. You can beef it up a bit by adding quinoa or even rice, and you've got a picnic-perfect lunch, even when you're just eating at your desk.
5Skinny Pasta Primavera
Some days, you just want a huge bowl of pasta, but when you have nowhere to heat it, you might assume you're out of luck. But this creamy pasta primavera recipe from A Spicy Perspective can be easily made in advance and enjoyed cold or at room temperature. Chop up the veggies and cook the pasta, then combine and store in the fridge. When you're ready to eat, you'll have a decadent bowl of heaven that is loaded in color and flavor. Can you say power pasta, anyone?
6Quinoa, Cherry, and Goat Cheese Salad
If you like your salads packed with different flavors (and who doesn't?!), you will love this light yet satisfying salad bowl from Averie Cooks. With quinoa as a base, you can pre-make this in large batches and save for those days when you're craving something tangy and sweet. And the cherry on top? No microwave is necessary to enjoy this one. Ain't that the sweetest thing?
7Curry Chicken Salad
This creamy chicken salad from Budget Bytes is surprisingly versatile — you can add in your favorite salad fixings, amp up the spices to your liking, and even stuff it in a tortilla or wrap in the morning if you're feeling extra fancy. It's so good, you won't even miss the chicken salad from your favorite deli down the block. *chef's kiss*
8Shrimp Israeli Couscous Salad
This delicious shrimp couscous salad from Cooking for Keeps combines roasted shrimp with Israeli couscous, goat cheese, arugula, pine nuts and a lemon vinaigrette dressing that makes for the perfect on-the-go entrée that you can make in advance and enjoy for days…as long as you can stop yourself from eating it all in one sitting!