9 meal prep lunches that will give you energy for the rest of your workday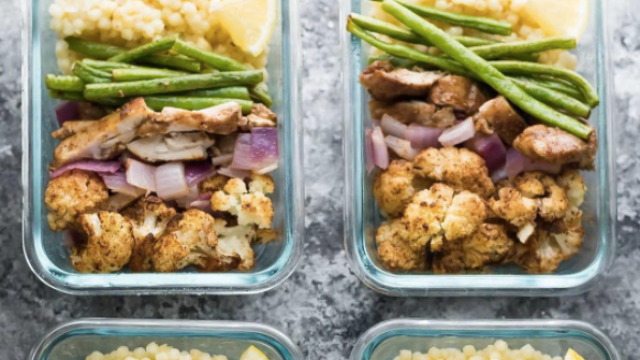 Though most people tout breakfast as the most important meal of the day, we actually think that honor belongs to lunch. After all, your mid-day meal has the responsibility of powering you through most of the day until dinner, which is no easy feat. So if you're looking for delicious meals you can prep on Sunday and enjoy for lunch Monday through Friday, we've got you.
These super easy meal prep recipes are designed to fill you up and give you all the nutrients you need to make the most of your workday — so much easier said than done, if we're being honest.
These healthy, non-boring lunches will revolutionize your lunch game, and if you take some time on the weekend to meal prep for the week, you'll be rewarded with insanely delicious lunches all week long.
Your coworkers will be truly jealous when they see what noms you're packin' each day.
1Chicken Tikka Masala Bowls
With a mere 30-minute prep time, you can enjoy your favorite Indian staple for lunch all week long thanks to this recipe from Damn Delicious. Aside from being flavorful and delicious, chicken and rice is a great source of fiber and protein, which you'll need to get through that late afternoon budget meeting without dozing off.
2Honey Sriracha Glazed Meatball Bowls
We're officially saying "girl bye" to the sad desk lunch, because these honey sriracha glazed meatball bowls from Meal Prep on Fleek kick that sorry trope right to the curb. In less than 30 minutes, you can enjoy spicy meatballs for all meals, and you'll definitely be tossing those takeout menus in the trash ASAP.
3Grilled Steak and Veggie Kebabs
If you're sorely missing summer, you'll definitely want to try these grilled steak and veggie kebabs from Meal Prep Mondays, which are as simple as chopping up some veggies, throwing 'em on the grill with some steak, adding your sauces and seasonings of choice, and boom! You've got a lunch worthy of a family barbecue (even if you are still stuck at your desk).
4Vegan Chipotle Burrito Bowls
If you're vegan or vegetarian and you've possibly felt that these meal prep lunches have been a little, well, meaty so far. Fear not: These Chipotle-inspired burrito bowls from Choosing Chia are vegan-friendly and gluten-free, so they're loaded in plant-based protein and fiber to keep you satisfied well past happy hour. You'll start by baking sweet potatoes and cooking brown rice, then combine it all with black beans, avocado, and veggies like onion and red pepper. Say goodbye to those 3 p.m. hanger pains for good.
5Curry Chicken Salad
Chicken salad is a lunch staple for a reason: It's super versatile and can be eaten with any number of spices or add-ins. This meal prep version from Budget Bytes can be enjoyed right from the fridge, no reheating required, which is perfect if your afternoon is completely non-stop. It's a light option but packs plenty of protein for all the late-day energy you need.
6Moroccan Couscous Meal Prep Bowls
These Moroccan-inspired bowls from Sweet Peas and Saffron are chock full of flavor thanks to delicious chicken thighs and roasted veggies, which add a ton of color and spice to your workday lunch. In addition to tasting incredible, this recipe features enough starchy vegetables to give you that boost your brain will definitely need to ward off the dreaded mid-afternoon slump.
7Chicken and Cashew Stir Fry
Stir fry is the best (and easiest!) way to get all your nutrients in without ever being ho-hum, and this chicken and cashew stir fry recipe from We Love Clean Food is so easy to make. Just add a big batch of chicken and cashews to your wok or skillet and throw in teriyaki sauce, ginger, chili, lime, and garlic with Basmati rice and tender stem broccoli, and you've got yourself a nutritious lunch that would even make the delivery guy jealous.
8Broccoli Cheese Soup
Soup gets a bad rep for being the go-to meal for when we're under the weather, but there's truly nothing better than a warm, hearty bowl of soup during the workday. It'll soothe your soul and nourish your bod, and this broccoli cheese soup from Pinch of Yum is so easy, you'll never have to go down the canned soup aisle ever again. It's loaded with veggies like carrots, onions, celery, broccoli, and starchy potatoes, and all you have to do is throw it all in a blender and you've got a robust midday meal. Just grab that spoon and go.
9Vegetarian Quinoa Burrito Bowls
These quinoa burrito bowls by Simply Quinoa are not only crazy easy to throw together (they take 20 minutes, tops!), but they're also filling enough to keep you nourished for the whole afternoon, no desperate trip to the vending machine for a pick-me-up needed. Start with cooked quinoa, then add in drained and rinsed black beans, corn (fresh or frozen is fine), chopped cilantro, lime juice, and spices of your choosing. You can also add in romaine lettuce, avocado slices, and a dollop of salsa. Bye bye, afternoon sleepiness. You're officially a thing of the past.