Chrissy Teigen offered to pay McKayla Maroney's NDA fine for speaking out about her abuser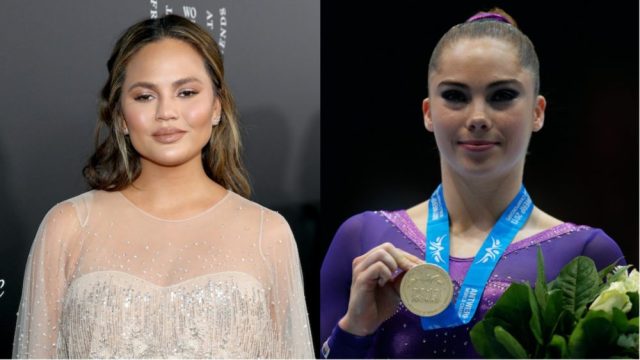 When former USA Gymnastics team doctor Larry Nassar is sentenced later this week for seven counts of criminal sexual assault, 88 women are set to speak out in the courtroom about their own traumatic experiences with him. But because of a non-disclosure agreement, former Olympic gymnast McKayla Maroney signed as part of a 2016 settlement with USA Gymnastics, it looked like she wouldn't be among them. Maroney's NDA stipulates that she's not allowed to talk publicly about Nassar, whom she's accused of abusing her. If she does, she could face a $100,000 fine. But if Chrissy Teigen has her way, McKayla Maroney won't have to pay anything to make her voice heard: The celebrity cookbook author and model wrote on Twitter that she'd be "honored" to pay the fine.
Teigen tweeted a screenshot of text describing Maroney's potential victim impact statement fine on January 16th. The screenshot reads: "Revealed: McKayla Maroney faces $100K fine if she speaks at Larry Nassar sentencing after USA Gymnastics made her sign an NDA ordering her to stay quiet about abuse as part of her $1.25 settlement." Along with that, Teigen posted a statement of her support of Maroney and her disgust at the stipulation even existing in the first place. Soon after, Parks & Recreation creator Mike Schur and Kristen Bell chimed in that they'd be willing to contribute to cover Maroney's potential costs as well.
According to a statement released late Tuesday, January 16th, the organization says it supports Maroney's right to speak up and won't be seeking any payment:
"USA Gymnastics encourages McKayla and anyone who has been abused to speak out. USA Gymnastics remains focused on our highest priority — the safety, health and well-being of our athletes and creating a culture that empowers and supports them."
Maroney, who's no longer on social media, responded to all the buzz with her own powerful statement that thanks Teigen for her generosity and support. She'll be making sure her story is told, she said, "regardless of a fine."
As McKayla Maroney expressed, the fact that Teigen was offering to use her platform and position to amplify another woman's voice is what's really going to be the catalyst for change when it comes to sexual assault and abuse of power. We all should be following Chrissy's lead.