McDonald's sells curly fries, so now our lives are complete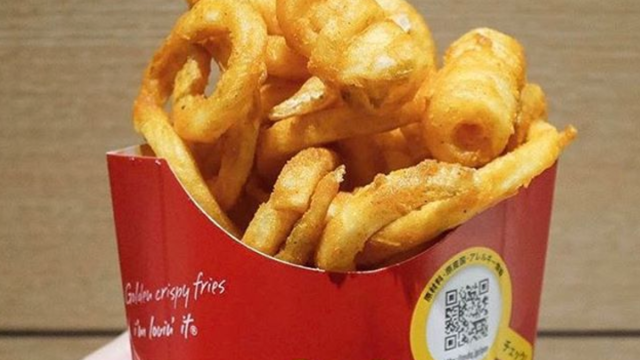 This just in – We just discovered McDonald's sells curly fries. No, we're not joking.
You do, however, have to be visiting a McD's in Singapore or the Philippines in order to get "Twister Fries." These spin on the classic french fry recently returned to the menu after a brief stint in 2015, according to Brit + Co. We can't help but be jealous. Just take a look at how delicious these look.
The fries will only be available for a limited time, so get them while they're hot. (Literally.)
It turns out, different franchises around the world all have their own unique offerings. Last month, McDonald's debuted a seasonal cherry-flavored soda in honor of Japan's annual Sakura festival. It's even topped with ice cream for maximum deliciousness. (Or you can nix the ice cream in favor of the drink itself, called a McFizz.)
But Japanese McDonald's doesn't stop there in its intriguing offerings. It also has dessert french fries. Yup, fried potatoes with milk and white chocolate swirled on top called the McChoco Potato. Amazing.
In Hong Kong by chance? Then you should stop by to check out McDonald's Oreo-inspired menu, which includes a cheesecake tart, tiramisu, and a frappé all made with Oreos. The limited time menu is in honor of a new partnership between the McCafe and Oreo thins.
https://www.instagram.com/p/BO2wv3Lh5T_
What else do we have to look forward to from the world's largest fast food chain? Well, in 2015, it was in the process of launching healthier options, including avocado toast and organic beef burgers. Both were in beta testing stages in the Australian and German markets, and though we haven't seen anything since then, we remain hopeful.
Alright, time to plan an international McDonald's tour.