McDonald's suggested customers dip fries in their milkshakes and people went absolutely NUTS over it
We all have our weird food combinations that we swear by — some of us love hot Cheetos and cream cheese, pickles and peanut butter, and if you've ever been to Wendy's, you KNOW that dipping fries into a Frosty is like heaven on earth.
However, when McDonald's simply suggested to Facebook users that they should be dipping their fries into one of four milkshake flavors offered at the fast food burger chain, the response wasn't exactly what they were looking for.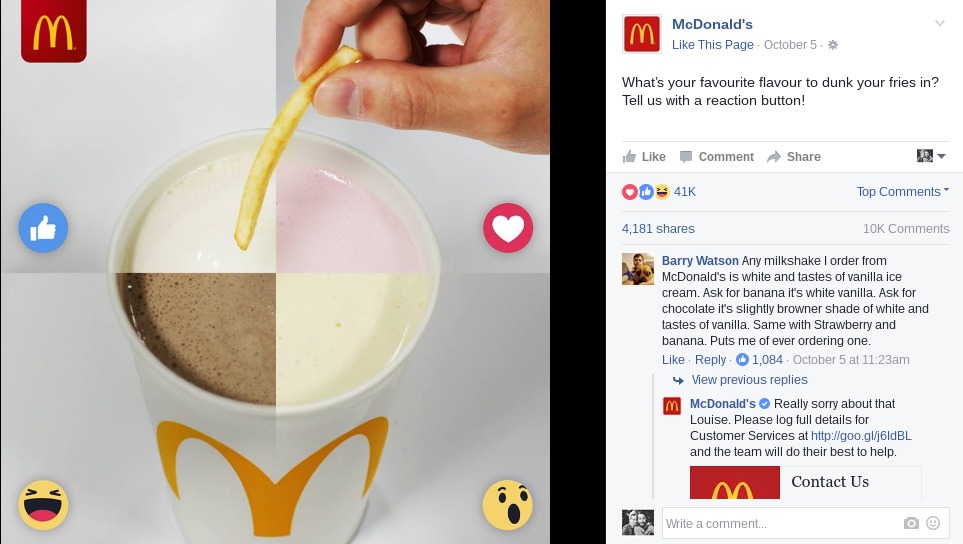 "What's your favorite flavor to dunk your fries in? Tell us with a reaction button!" they wrote.
While the post did garner a lot of reactions (over 41K!), the comments basically proved otherwise. One user wrote, "Nearly threw up a little, no just no, can't ruin a good milkshake or fries hahaha," while another said, "People who think it's acceptable to dip fries in milkshake and then actually consume them, need to be banned from McDonald's."
OUCH!
Twitter users have been pretty vocal about the whole fiasco as well. false
And even though there's a lot of negativity and (we'd go as far to say) controversy surrounding this whole thing, some people are quick to defend the combo.
We say to each their own — you can do whatever you want with your fries and milkshakes, no judgement here!