McDonald's Chicken McGriddle is here and the all-day breakfast menu just got better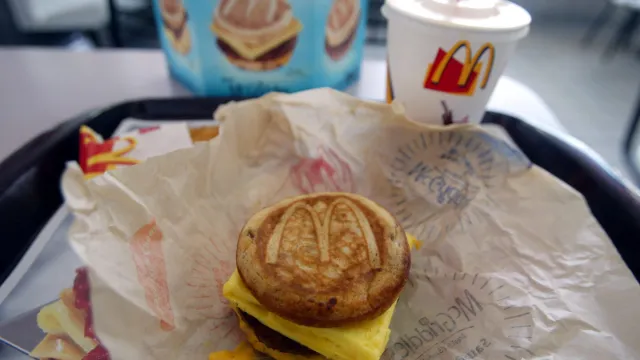 If having chicken for breakfast is on your list of non-negotiables, then you'll be excited to know that your morning meal menu options have expanded. As Uproxx reports, McDonald's is now serving a chicken McGriddle, adding some new protein to the original sausage, egg and cheese recipe, as well as some extra pep in the step of excited customers who can't wait to try out their updated twist on the chain's classic breakfast sandwich.
This summer, McDonald's added McGriddles to its all-day breakfast menu after testing out the sandwich, which caused Mickey D-obsessed consumers everywhere to leap for joy and breathe a sigh of relief at being able to order a hash brown in the middle of the day. LIFE WAS GOOD, GUYS as it will be for the lucky folks in Florida, who get to try out the Chicken McGriddle and the chicken biscuit for a limited time, until those menu items (hopefully) make their way into all the other McDonald's restaurants on a permanent basis.
As Brand Eating reports:
"The new menu item features a crispy McChicken patty nestled between two sweet McGriddle cakes and is meant to be the chain's portable version of chicken and waffles."
In case you're wondering, this Chicken McGriddle looks just as tasty as it sounds.
https://www.instagram.com/p/5cFTqDtHuG
These emojis basically sum up how we feel about the prospect of biting into this sandwich.
Alright, McDonald's. We know you're under a ton of pressure to satisfy the cravings of your billion-plus customers, but if these Chicken McGriddles don't make their national debut soon, we're not sure we'll be able to contain our cravings-induced food rage.
We're patiently waiting!