McDonald's is going to make their all-day breakfast menu even better
Only a few short months after launching, McDonald's all-day breakfast menu is undergoing a (welcome) change.
The fast food chain finally started offering an all-day breakfast menu back in October after years of resistance. The update has even helped McDonald's see a 5.7% increase in sales. However, it was only half a dream come true. The all-day breakfast menu only sells select items from the traditional breakfast menu. If you roll up to a Mickey D's at 11am, your breakfast options are limited to pancakes, hashbrowns, and either biscuits OR McMuffins, depending on the local market preferences.
That's great, but what if you want a McGriddle? Well, now you might be in luck. According to the Associated Press, McDonald's is currently in the process of rolling out all-day McGriddles and biscuit sandwiches — kind of. They'll be testing the expanded menu at 72 restaurants in Tulsa, Oklahoma for a period of 2-3 months. If all goes well, we could see the change happen at franchise locations nationwide just in time for summer.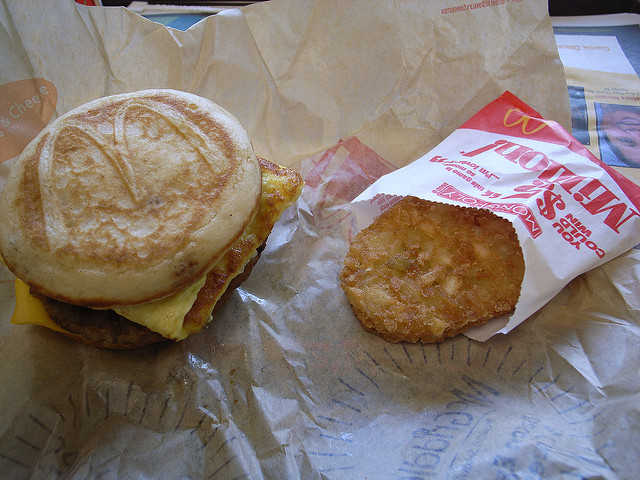 McGriddles any time you want?! Umm, yes please.
This isn't good news for everyone, though. McDonald's resisted serving breakfast items outside of their cutoff time for years, citing limited kitchen sizes among other reasons. It sounded a little suspect considering several other fast food chains, such as Jack in the Box, serve their entire menu no matter what time it is. Franchises seem to be backing up the original claim though, as several locations have complained that serving breakfast all day slows down service, weakens employee morale, and has caused high turnover due to frustrated crew members.
Of course, these could just be growing changes. Since the all-day breakfast roll-out is still relatively new (it just hit its 3 month mark!), it can't be expected to be perfect. Once McGriddles are added to the all-day menu (and perhaps once McDonald's can figure out a way around the kitchen havoc this may cause) , we're pretty sure everyone will be too busy enjoying their syrupy deliciousness to be upset.
(Images via Shutterstock; Flickr/kazamatsuri)