This shero senator said men should "shut up and step up" when it comes to the Kavanaugh allegations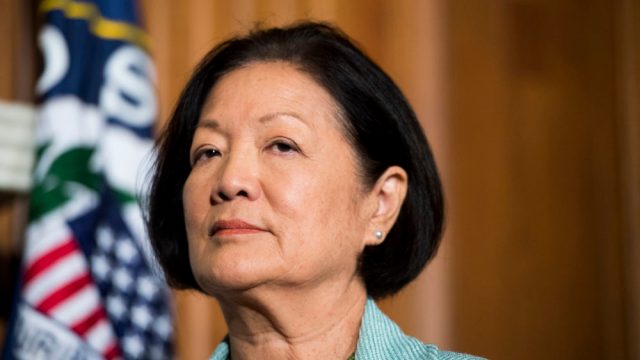 Since research psychologist and professor Christine Blasey Ford alleged that Supreme Court nominee Brett Kavanaugh attempted to sexually assault her when they were teenagers, the Senate Judiciary Committee has arranged a hearing for Ford and Kavanaugh to testify. And as the hearing draws closer, many have raised concerns about the double standard to which Ford has been subjected as an accuser. Now, Hawaii senator Mazie Hirono has given some advice to men: When it comes to sexual assault allegations, "shut up and step up."
As CNN reported, on September 18th, Ford and her legal team requested an FBI investigation into Kavanaugh's actions, asking for the hearing (scheduled for September 24th) to be postponed in the meantime. Republicans denied Ford's request, and, at a press conference on the 18th, Senator Hirono, a member of the Judiciary Committee, condemned the Republicans' approach.
According to USA Today, when one reporter asked Hirono if she felt the female senators on the Judiciary Committee would make a difference, the Hawaiian senator was clear that she expects men to do their part and call for an FBI investigation.
"Guess who's perpetuating all of these kind of actions? It's the men in this country," she said. "And I just want to say to the men in this country: Just shut up and step up. Do the right thing for a change."
Hirono said she was "upset" by the "unfairness of the situation" before adding that "women like Dr. Ford" should be heard.
"Not only do women like Dr. Ford, who bravely come forward, need to be heard, but they need to be believed. They need to be believed," she said. "We cannot continue the victimization and the smearing of someone like Dr. Ford."
As CNN reported, Hirono previously made headlines when she refused to meet with Kavanaugh ahead of his confirmation hearing, asking for the hearings to be postponed until after the 2018 midterm elections.
It's encouraging to see women like Hirono not only supporting victims, but also asking men in power to do so as well. We hope that she keeps fighting, and we stand with Ford and all survivors of sexual misconduct.