Mayim Bialik reveals Jim Parsons' wedding was a cell phone free affair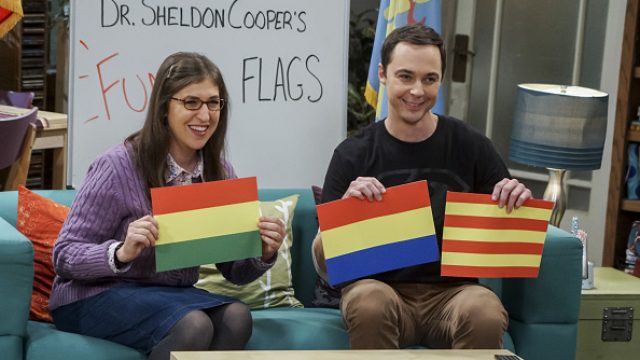 If a celebrity wedding happens and no cell phones are there to document it, did it really happen? Well, of course it did, though fans might be a bit bummed. But the trade-off is that the guests get to experience something pure and lovely. According to Mayim Bialik, Jim Parsons' wedding was great because "everyone was so present" — thanks to a no-phone policy.
On Saturday, Parsons wed his longtime boyfriend Todd Spiewak, and it was magical. The two tied the knot in New York at the Rainbow Room, and on Monday, Parson's on-screen love, Bialik shared a sweet post about the wedding. She explained that the no-phone rule made it that much better.
"What a wedding. Not a cell phone in sight. Everyone was so present which sounds pretentious but it was truly powerful for us all to just want to be there fully," Bialik wrote on Instagram. "Todd and @therealjimparsons, you are so loved. Also: hands down, prettiest chupah ever. Seriously. #chupahlove #yourlove."
Although Parsons has shared photos from his big day, his no-phone rule worked perfectly.
It allowed the happy couple to control what was released and when.
This duo is not, however, the first celebrity couple to institute this rule. Even though, to borrow Bialik's word, it might be seen as "pretentious," it's a pretty common idea.
https://www.instagram.com/p/BUHltiphh59
Couples like Jennifer Aniston and Justin Theroux, for example, kept their wedding on the down-low in part by banning phones. Wedding attendee Howard Stern, however, explained that not having his phone was totally annoying.
"I don't want to take a picture of you two! I really don't," Stern told his Sirius XM radio listeners via Vanity Fair. "I want my cell phone so after I make this speech I can call my car and get the f**k outta here!"
Country singer Randy Houser and wife Tatiana Starzynski decided to take away phones for a different reason.
He decided to keep phones out of the wedding to rid their day of "phone face."
"It seemed like almost every photo we looked at of other weddings, when you see pictures of the bride and groom, there would be pictures of people in the background at the wedding with phones in their faces," Houser told CMT back in 2016.
Other celebs to follow this rule include Mary-Kate Olsen and Olivier Sarkozy, Gabrielle Union and Dwayne Wade, and Michael Jordan and Yvette Prieto.
What do you think about asking guests not to have their phones during a wedding? Is it a good idea or a major no-no?
Save