Mayim Bialik talks to HG about a possible baby for Amy and Sheldon—and following your passions later in life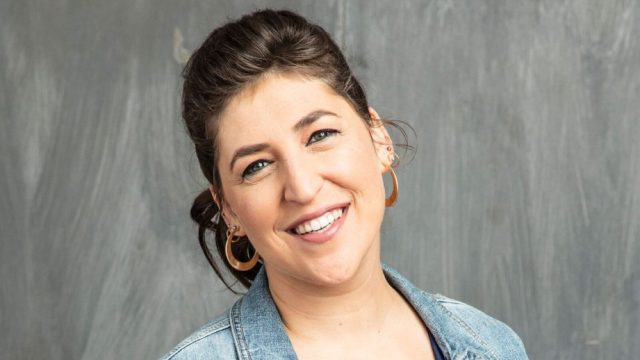 Firefighter, astronaut, chef—we all had a dream for our grown-up selves. But now that we're adults (or at least *trying our best* to be adults), it can often feel like we've given up on the things that fueled us as kids. Well, Mayim Bialik of The Big Bang Theory fame is here to tell you that it's never too late to totally switch course and follow your passions.
"It is never too late in your life and you are never too far into whatever you're doing to not consider pursuing something that might have been your passion or that you thought was impossible," Bialik told HG.
And Bialik has the experience to back up her words. The Emmy-nominated actress achieved child-star status with Blossom in the early '90s, but she couldn't let go of her childhood passion for science—so she made the leap into the unknown, earning a Ph.D. in neuroscience from UCLA in 2007.
"Even though I've returned to la la land and make my life and living in the industry, the training I received as a scientist never leaves me," she said. "I see the world as a scientist and I feel like a fulfilled person as a scientist. I wasn't cast to play a neurobiologist because I'm a neuroscientist in real life but I'm really grateful for all of the advocacy I get to do on behalf of women in particular and to put a positive face on STEM and all the wonderful careers there are in STEM (science, technology, engineering and math)."
This is also why Bialik has teamed up with Pearson, the digital education company, for a new campaign called, "Dare to Learn, Dare to Change," which celebrates people who have gone back to school as adults to change their careers.
"A lot of people either feel stuck or afraid or there are so many challenges in the way like money and time, so it's neat that Pearson actually has solutions to those questions so that for people who want to make a change, it's possible," she said.
Bialik also told us why she decided to return to acting after already making the switch to science (and her reason is all too relatable).
"I had a toddler and a newborn, and my husband at the time was finishing his Master's degree, so I figured if I could just get a few acting jobs so I could just get insurance again, that would be helpful," she said with a laugh. "I started auditioning for anything my manager sent me on. I had never seen The Big Bang Theory, I had heard of it once and thought that it was a game show. I did not have the industry at my feet as many people have asked me. I was just grateful to audition for it. It started as a guest spot at the end of Season 3 and then I was made a regular in its fourth season."
https://www.youtube.com/watch?v=IxXXYWQ3Gkk?feature=oembed
And how did Bialik respond to the recent news that this is Big Bang's final season?
"We all found out together," Bialik said of the decision to end the series. "We were all thrown. There's not any particularly uplifting story about it–we were told this was the final season the day after we filmed our first episode. We found out right before the press release was put out, and it was very bittersweet. We love what we do and the fans love us so it's going to be very hard to say goodbye. It's surprising and sad."
While Bialik admitted she doesn't know how the writers are going to end the series or what's ahead for her character Amy Farrah Fowler, she's excited to find out along with the show's passionate fans.
"There are so many possibilities—I don't know if it means a baby for Amy or Sheldon or someone else on our show," Bialik says. "[Creator] Chuck Lorre says he wants to make this the best season we've ever had so there is a lot of exciting stuff ahead. I can't wait to see what the finale is."
The twelfth and final season of The Big Bang Theory premieres on Monday, September 24th at 8 p.m. ET on CBS.