Maybelline new 24K nudes palette will have you sparkling like champagne this NYE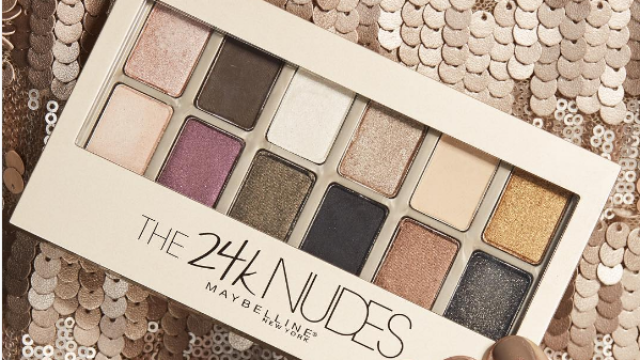 The growing world of eyeliner and eyeshadow options is impressive, to say the least. Every day there's a new palette full of ostentatious colors waiting to be spread on your hungry eyelids, and Maybelline's new 24k nudes palette is yet another shining gorgeous pool of glitter glam eye makeup you can smear on while doing your best Zsa Zsa Gabor impression.
The brand new luxurious Maybelline palette includes twelves nude shades of eyeshadow that have been heavily dosed with sparkles, thus making them the 24K version. These could easily be paired with lavish fake eyelashes for NYE for a charming, fabulous look that distracts people from your drunken midnight antics.
The 12 shades in the 24K Nude Palette can be purchased from the Maybelline website for only $11.99
https://www.instagram.com/p/BOO_WRAjjT0
You can use your leftover cash to keep the champagne flowing.
For reference, this is what the plain, old boring Nude Palette from Maybelline looks like.
https://www.instagram.com/p/BONh0pwj1vC
It certainly doesn't have the same party appeal as the ramped up 24K version.
The regular Nude Palette probably settles in with unsweetened tea, while the 24K Nude Palette adds a shot whiskey to the hot beverage.
So, which are you: a 24k Nude Palette woman or a regular Nude Palette woman, or just literally naked?! Please don't answer.