Maya Rudolph Had the Best Reaction to the Kamala Harris News
There was cursing involved.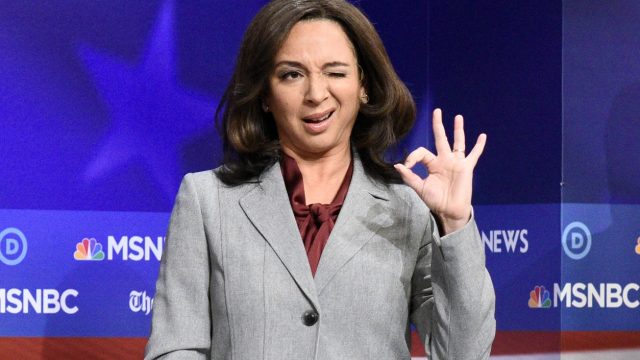 Yesterday, August 11th, Former Vice President Joe Biden announced that he has chosen Senator Kamala Harris as his running mate for the 2020 presidential election. Harris is the third female vice presidential nominee, and first Black American and person of Indian descent to be selected as a running mate—which is great news both for America and for those who are fans of Maya Rudolph's portrayal of Senator Harris on Saturday Night Live.
"Oh shit," Rudolph said during an Entertainment Weekly panel discussion with fellow Emmy nominees. The Outstanding Guest Actress in a Comedy Series nominee, who earned her nomination for playing Harris on SNL, then added, "That's spicy."
So, will Rudolph reprise her role as the California senator on SNL?
"I love going to the show," Rudolph said. "Any excuse I can get, I love. I just didn't really anticipate traveling during a pandemic, but if there's anyone that can work it out I'm sure Lorne [Michaels] has some sort of invisible helicopter that can get me there."
Rudolph began playing Kamala Harris in 2019 during a DNC Town Hall sketch where she secured her spot as everyone's favorite fun aunt, or "funt," as was coined.
"Ever since I was a kid, truly, I wanted to be on any kind of SCTV, Saturday Night Live, and I can't believe that I got to work there, and I can't believe that it's my family still. I'm so thrilled to even be associated with the show and that I got to go back," Rudolph said to EW. "It's like the gift that keeps on giving. Honestly, it's my favorite place to play."
Though she's not quite ready to return to the SNL stage "right this minute," Rudolph can't wait to get back to playing at her favorite spot once safety isn't an issue—and we can't wait to watch her in her new role: Vice Presidential Candidate Kamala Harris.