Maya Rudolph and Tiffany Haddish pointed out the lack of representation at the 2018 Oscars and we're here for it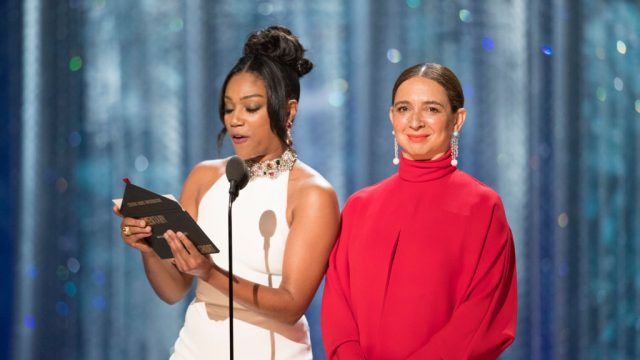 In what was probably the most enjoyable part of the 2018 Oscars, Maya Rudolph and Tiffany Haddish presented the awards for Best Animated/Live Action Short and their comedic skit did not disappoint.  
First off, the ladies entered the stage with their strappy high heels slung over their shoulders. Haddish admitted (in the most refreshing way) that her feet hurt from wearing high heels since 11 a.m. that morning, and asked Rudolph how long she had worn her heels. Rudolph's cheeky response elated laughter when she said, "Since the Critics' Choice Awards."
The funny ladies then addressed the prevalence of #OscarTooWhite over the last couple years, noting that there had been some improvement in 2017. (Get Out's Daniel Kaluuya and Roman J. Israel Esq.'s  Denzel Washington were both nominated for Best Actor, and Get Out's Jordan Peele is nominated for Best Picture, Best Director, and won Best Screenplay.)
But before anyone could cite tokenism or "reverse racism" in a sigh-worthy move, Haddish and Rudolph came in with the stinger. Haddish said, "When we came out together we know what some of you were thinking…are the Oscars too black now?"
Rudolph sarcastically soothed the crowd, saying, "Don't worry, there are so many more white people to come tonight." Haddish elaborated, noting that there were tons of white people backstage. "And not just movie stars, there are white people walking around with headsets [and] clipboards."
https://www.youtube.com/watch?v=X8hpFbW1gUY?feature=oembed
In that humorous way, Haddish and Rudolph pointed to a continuing problem in the industry. While it's definitely been noted that there's a lack of minorities in leading roles, they also illuminated the fact that diversity is lacking behind-the-scenes in other jobs such as production, hairdressing, and costume design. UCLA's 2017 Hollywood Diversity Report said that in 2015 only 3% of major broadcast TV shows were made up of majority minority TV writers with minority directors dipping 2.8% since 2016.
We're so glad to have women as funny as Haddish and Rudolph representing minority women out there who deserve to be included.