In celebration of May Day, here are some women from the labor movement you need to know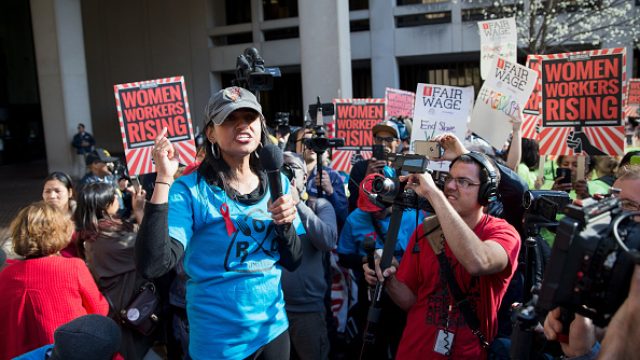 May 1st, or May Day, is one of the most important days of the year: Historically, May 1st is a day when workers and immigrants across the world rise up and demand fair treatment, living wages, and equal rights. As I write this article in our Downtown Los Angeles office, I can hear the voices of marching workers, as thousands take to the streets.
Before I started writing full-time, I was able to work with various labor rights organizations. So I thought I'd ask a friend of mine who is now a union organizer to explain why May Day is so critical. Jill Marucut is a Labor Relations Representative for the California School Employees Association and has previously worked as an organizer for service workers. She told me:
"May Day provides workers throughout the world the opportunity to come together and realize their power and strength over the socioeconomic forces seeking to oppress workers. Throughout Downtown Los Angeles [and the rest of the country, and the world], protesters are going to hit the streets demanding for recognition of their power, value, and resilience on May Day!"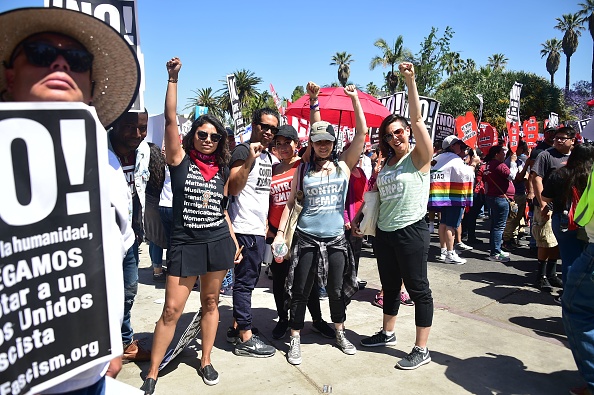 Women have long played a vital role in the labor movement — especially since they face a very complex set of obstacles in the workplace, from the wage gap, to sexual harassment and violence, to the glass ceiling.
Based on her work as an organizer across California, Jill says:
"I have noticed that one of the most prevalent labor issues for women includes the lack of access and opportunity for promotions...Women are not often mentored or encouraged to seek promotional opportunities. Many resolutions need to be implemented, starting with ensuring that women workers are provided with the opportunities and resources to be mentored by someone who is deeply vested in their growth."
To celebrate the power of women workers on May Day (and every day), here is a (very) short list of labor activists you should know as you start learning more about the movement.
Dolores Huerta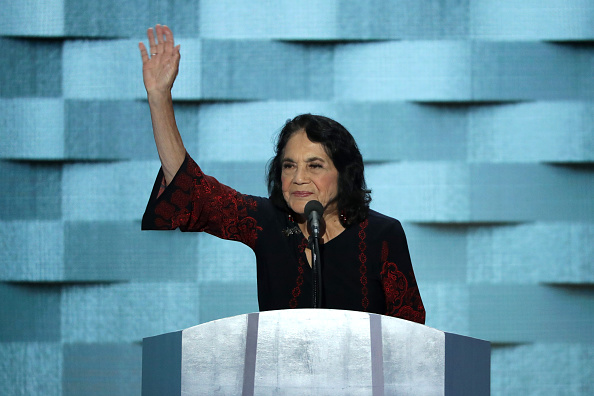 If you aren't familiar with the labor movement, you may still be familiar with Mexican-American labor rights activist, Dolores Huerta. Perhaps you've seen the iconic photograph of her as a young woman, defiantly holding up a sign that reads Huelga (strike), or you've learned about her important work alongside César Chávez in the Delano Grape Strike and Boycott. But did you also know, before she and Chávez ever formed the National Farm Workers Association, she founded the Agricultural Workers Association? Because of Dolores, the Agricultural Labor Relations Act exists, which gives California farm workers the rights to organize, strike, and bargain. Dolores also helped enact disability insurance for California farm workers and the Aid to Families with Dependent Children (AFDC), a federal assistance program for low-income families.
You may also be familiar with Dolores Huerta because, at 87 years old, she hasn't slowed down. She founded the Dolores Huerta Foundation, Barack Obama awarded her The Presidential Medal of Freedom in 2012, and she continues to advocate for gender equality, immigration rights, and workers' rights.
Maria Elena Durazo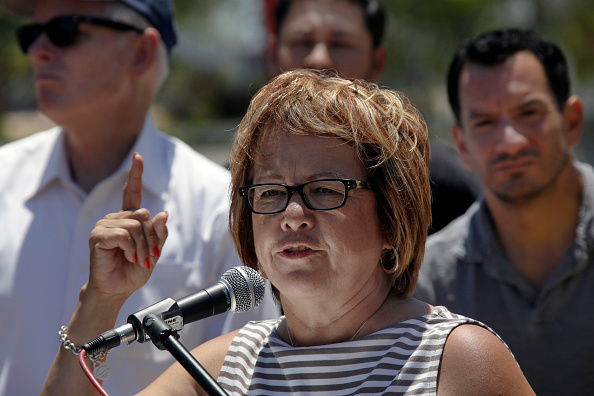 Maria Elena Durazo is a key figure in the politicization of the Los Angeles labor rights movement. Her organizing work began in 1983 at the Hotel Employees and Restaurant Employees (HERE) union, Local 11, and she helped turn the union into a democratic organization. When she became president six years later, Local 11 emerged as one of the most active unions in the city, and she eventually became the first Latina serving on the board of HERE International. Maria Elena also became the first woman elected as secretary-treasurer of the Los Angeles County Federation of Labor, AFL-CIO in 2006 and went on to become the vice president of the national AFL-CIO executive council in 2010.
Maria Elena is a tireless advocate for the rights of immigrants and immigrant workers. She was the national director of the Immigrant Workers' Freedom Ride in 2003, and she is now the Vice President for Immigration, Civil Rights & Diversity for UNITE-HERE.
Maria Elena's political influence is greatly felt in the Democratic party. She is Vice-Chair of the Democratic National Committee (DNC), and she is currently running for a seat in the State senate.
Saru Jayaraman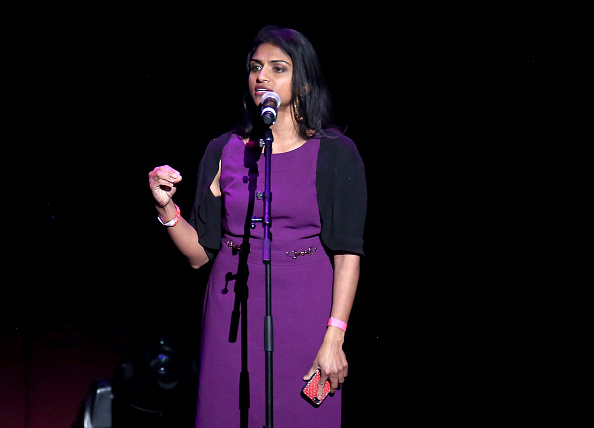 Saru Jayaraman has empowered restaurant workers in the labor movement since 2001, co-founding the Restaurant Opportunities Center United (ROC United) alongside Fekkak Mamdouh. Considering many servers, cooks, hosts, bussers, etc. are not unionized, ROC-United has become the national organization where employees can turn when they are victims of wage theft, sexual harassment, and other forms of workplace abuse. ROC United has won back over $10 million dollars in stolen wages and tips for restaurant employees.
Jayaraman helped create ROC in 2001 after 9/11, when World Trade Center restaurant workers were displaced and unable to find work. A graduate of Yale Law School and the Harvard Kennedy School of Government, Jayaraman wrote the bestselling book Behind the Kitchen Door about workplace injustice in the restaurant industry.
Jayaraman has been in the news lately as ROC United recently signed on to help restaurant workers filing a lawsuit against Donald Trump and Trump Hotel.
May Chen
May Chen has been a presence in the labor movement since the early '80s, when she led 20,000 Asian-American garment factory workers in the New York Chinatown Strike. As a strike organizer for the International Ladies' Garment Workers' Union (ILGWU), she helped win contracts for the factory workers, and stopped bosses from cutting their wages and taking away their holidays and benefits. Additionally, her strike efforts set the groundwork for improved working conditions for factory employees, including English-language classes and translators for non-English speakers. She also worked on the ILGWU Immigration Project, a program that helped workers apply for citizenship and legalization.
Chen went on to become a founding member of the Asian Pacific American Labor Alliance (APALA), and was a member of the Coalition of Labor Union Women. Additionally, she served on the White House Commission on AAPIs and was the International Vice President of UNITE HERE until her retirement in 2009.
Jessie Lopez de la Cruz
Along with Dolores Huerta and César Chávez, Jessie Lopez de la Cruz is another prominent United Farm Workers (UFW) activist you need to know. The Chicana activist began working in the fields when she was 5 years old — so she'd grown up experiencing poverty, dangerous work conditions, and workplace abuses. By 1965, she was the UFW's first female recruiter. In addition to her strike organizing, she was a delegate for the Democratic National Convention in 1972. She passed away at 93 years old in 2013, having remained politically engaged for the rest of her life.
Hattie Canty
Hattie Canty's legacy as a union organizer is historic and powerful. The African-American activist went from being a maid at a Las Vegas hotel to the president of the Las Vegas Culinary Worker's Union Local 226. Canty started working as a maid in 1979 when the death of her husband left her and her eight children without health insurance. After becoming involved with the union, she helped stage a 75-day walkout to gain better health insurance for workers — and they won.
In 1990, Union members elected Canty as President of Local 226, and she became known as one of the most successful strike leaders in American history when her union engaged in a six and a half year strike (the longest in U.S. history) and won better working conditions. She passed away in 2012 after a life of helping her fellow workers.