This woman-owned sex tech company is Netflix-ifying condoms
No matter your age, buying condoms at a store can make you feel like a naughty adolescent doing something wrong. Our reasonable selves know that isn't true—condoms are objectively good and responsible—but we can't help but get nervous at the thought of running into our rabbi or third grade teacher at the checkout line, pack of Skyns in hand.
Thankfully, women-run sex tech company Maude is making it easy to never face that misplaced guilt again. Its 100 percent natural latex condoms, called Rise, are not only purchasable online, but are now also available as a money-saving subscription service.
At $12 for a one-time pack of ten, skip the cringe-worthy drug store trip and instead look forward to a discrete, eco-shipped package on your doorstep within days. If you anticipate using these up within 30, 60, or 90 days (and if so, good job), you can opt into automatically renewed purchasing for just $10.80 a month.
It's not just the convenience factor we love about these condoms, they're also a legitimately easier-to-use product than what we've come to expect from the industry. Each condom is housed in what Maude calls "buttercup packaging," which, to us, looks like a shallow, peel-top yogurt cup. The fragrance-free, lubricated latex material is electronically tested for safety and FDA-approved, and, yes, feels barely there.
"I was on the hunt because standard condoms were irritating me and causing me yeast infections," writes one reviewer on Maude's site. "I learned that spermicides and other chemicals often caused this. I came upon these. Both my boyfriend and I LOVE them. They feel so natural. Fairly priced as well. I'll never use an off the shelf condom again."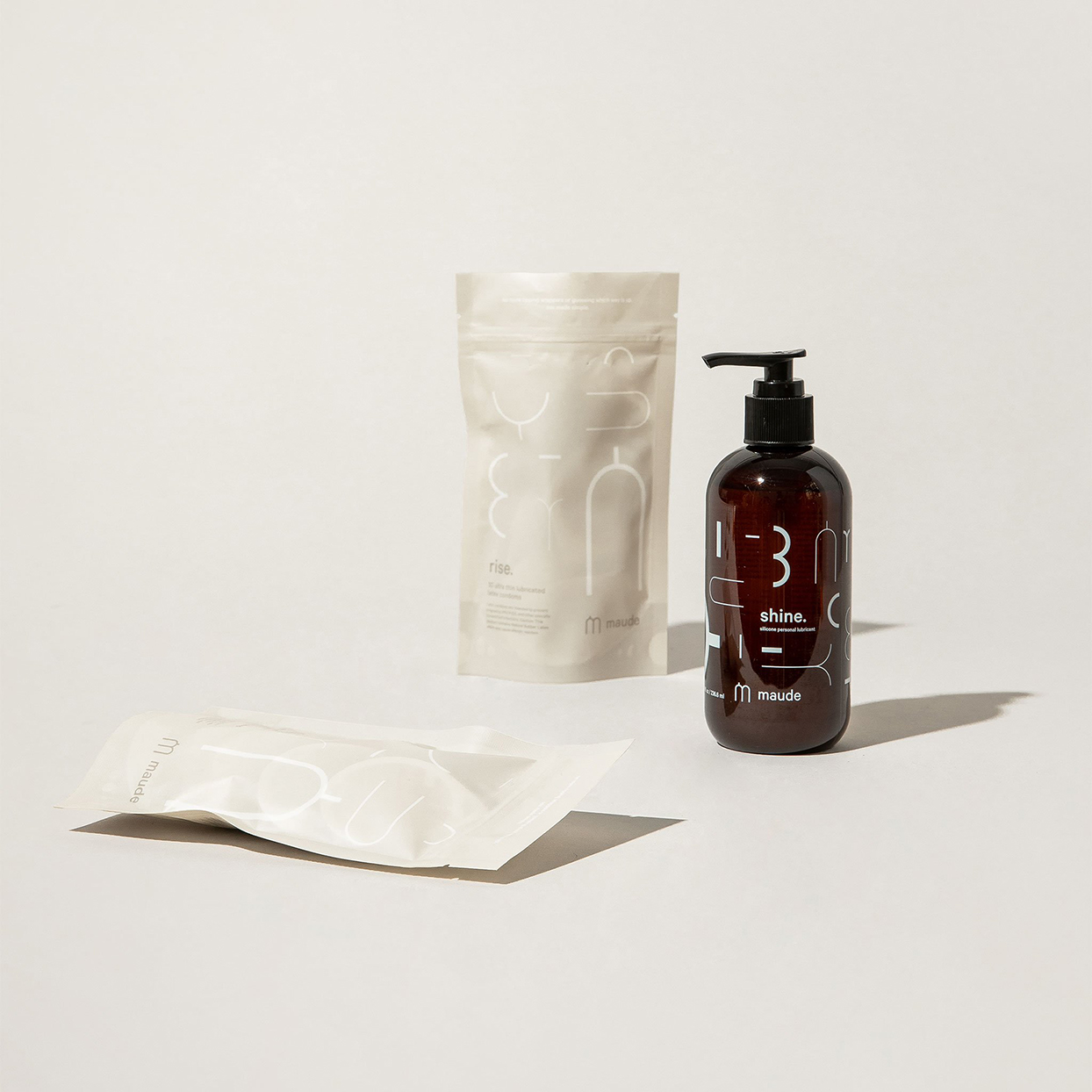 Maude's entire lineup is a minimalist's wet dream—what else would we expect from the company that made an "art object" vibrator go viral?—and every product plays nice with one another.
The brand's Rise condoms pair excellently with its Shine lubricants (and I could kiss the copywriter who nailed this naming opportunity), whether you opt for the silicone or organic formula. If it's the synergistic duo you'd like to unbox on a monthly cadence rather than just condoms, you can opt into The Basics Kit or mini-sized The Travel Kit subscriptions instead.
Shop condoms direct to doorstep starting at just $11/month, or bundle condoms and lube starting at just $29 from GetMaude.com.