Maude Apatow Will Work Her Whole Life to Prove She's More Than Her Last Name
The actress opens up to HelloGiggles about nepotism claims, 'The King of Staten Island', and what's in store for 'Euphoria' Season 2.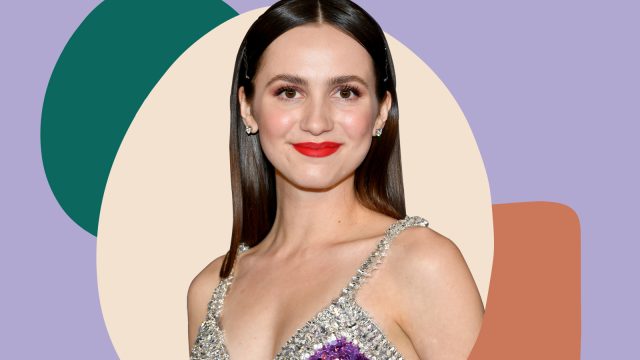 Maude Apatow knows what you're thinking. As the daughter of filmmaker Judd Apatow and actress Leslie Mann, she's aware that people know she got a major head start on her acting career at age nine, playing the daughter of her mom's characters in Apatow's Knocked Up, followed by Funny People and This Is 40 years later. Now, at 22, she has a main role in her dad's most recent film, The King of Staten Island—and she understands that some might dismiss her work as the product of nepotism.
"I hear that and I get it," Apatow tells HelloGiggles, speaking over the phone in August. The thing is, though, that the label only pushes her to work even harder. "I just want to do everything I can to show that I am capable and worthy, and I will probably continue to do that for the rest of my life," she says.
When Apatow auditioned (yes, she had to audition) for her role in The King of Staten Island, she was determined to prove herself to the world—but also to Pete Davidson, who co-wrote the screenplay with her father, roughly basing it off his own upbringing. The film, now available on-demand and on Blu-ray and DVD, follows Scott (Davidson), an aspiring tattoo artist; Apatow plays Scott's little sister, Claire. Throughout the movie, the 20-something Scott stumbles through life while grappling with the loss of his firefighter father, who died in his youth.
"The King of Staten Island was able to take on and discuss these big issues, like mental health and grief and relationships," Apatow says now. "And I think the perfect kind of movie or tone of a movie in my head is a movie that can be funny and bring relief while also talking about these bigger issues."
In playing Claire, the star says she wanted to be "really, really respectful," since the character was loosely based on Davidson's real sister, Casey. "I was a little nervous going into it just because I really wanted to make sure that I was doing the part justice and doing it the way that [Davidson] wanted," Apatow says, "but there was no sense that he was ever judgmental or weird about it." (Davidson, who pushed for Apatow to play the role, has said "she felt like she really was my sister.")
Before filming began, Apatow purposefully kept her distance from the real Casey. "I didn't want to hang out with her because I didn't want her to think I was doing an impression of her," she explains. "I also wanted to make my own character out of it."
Yet Apatow fit so comfortably into the role of Davidson's semi-fictional little sister on-screen that the two women inevitably got to know each other before long. "I got lucky because Pete's sister in real life is like the best person, like, we had dinner three nights ago," she reveals. "I love her and we've stayed friends."
In addition to giving her a new friend (and the opportunity to work with her dad again), The King of Staten Island also gave Apatow major career inspiration. Following in her father's footsteps, the star says she hopes to write and direct her own stories—in fact, she already made her directorial debut in 2017 with the short film Don't Mind Alice, which won the "Best Comedy" award at the Ivy Film Festival. She reveals that she's been working on developing a full-length movie script while in quarantine, and while she won't say much, she notes that she's using The King of Staten Island as a touchpoint. "Hopefully one day I can make something with that tone and be able to talk about things that people are struggling with but are afraid to talk about," Apatow says.
She's already involved with another project that does just that: HBO's Euphoria, in which she plays the wholesome, level-headed Lexi. The show's first season was a ratings success, and fans and critics praised its portrayal of honest storylines rarely seen in pop culture like abuse and mental health issues. Looking back, Apatow remembers, "a lot of people saying that [Euphoria] made them feel seen or less alone, adding, "I think that's kind of the reason that [actors] make the stuff we make or do this at all."
Like many of Euphoria's viewers, Apatow says she felt represented in a new way by the show—but the character she connected with most might surprise you. While the actress, who fiercely loves cats, gets nervous in interviews, and identifies, per her Instagram bio, as a "fan of the musical Annie," appears to be most like Lexi, she says it's actually the show's lead, Rue (Zendaya) in whom she sees herself most. No, not because of the drug abuse or family issues, but because of the show's thoughtful portrayal of Rue's anxiety and obsessive compulsive disorder—both of which Apatow has dealt with in her own life and takes comfort in seeing on-screen.
"Anytime you're reading or watching a movie or a show and you see a character reflect a similar struggle to your own, it makes you feel less alone," she says.
With such a memorable first season, expectations are high for Season 2 of Euphoria, which the cast and crew started preparing for at the beginning of this year until the pandemic hit. "We had all of our table reads and our makeup tests and costumes and then everything got shut down," Apatow says. Some fans, still holding onto a brief kiss between Lexi and Rue at the end of Season 1, have been quick to spread rumors that a development of this connection or even a different female love interest is in store for Lexi next season—but Apatow won't confirm nor deny that possibility.
"I honestly have been sworn to secrecy, I literally can not reveal any info," she says. But, she promises, "Season 2 is really good." We'll be waiting.