Matthew Perry revealed the one "Friends" storyline he refused to do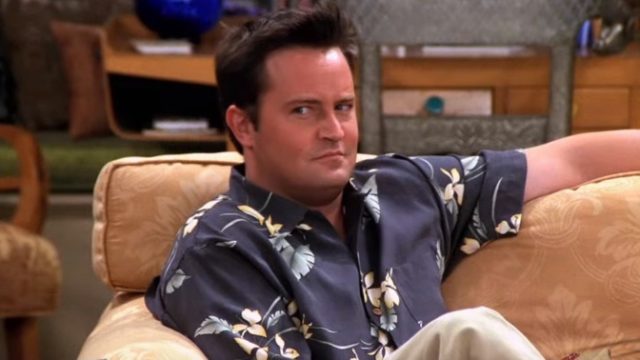 It's hard to pick favorites when we're talking about Friends, but…Chandler Bing might be our favorite friend (gasp, we know!). Chandler endured a lot, including a near-possible move to Yemen and the time a stranger licked his neck on the subway. But Matthew Perry just revealed which Chandler storyline he refused to do, and we're a little bit bummed about it.
Matthew stopped by last night to chat with Andy Cohen on Watch What Happens Live, and he dished on all things Friends…naturally.
Matthew revealed there was one plotline on Friends he axed, and we're a little sad we'll never get to see it.
https://www.youtube.com/watch?v=J-D98vcPbaw?feature=oembed
According to Matthew, he didn't want Chandler to go to a male strip club purely for the sandwiches. Really!
"There was a storyline on Friends where Chandler went to a male strip joint because he really liked the sandwiches. I called up and said, 'Let's not do this one.'"
Of course, Chandler did go to a female strip club with the ladies during phase two of his attempts to heal from his breakup with Kathy, so we're bummed he wasn't into this one. It probably would have been hilarious and pretty much feels like an episode we've already seen…plus, you know Joey would be game to go anywhere with a good sandwich.
https://www.youtube.com/watch?v=2-JV8mZDBgU?feature=oembed
Matthew also gave a few other Friends tidbits, revealing that he does still get residual checks, which makes sense since the show still airs on TV probably 97 times a day. He had nothing but praise for the show, saying,"I get a little something and I go, 'Hey, that's nice!' It's a really great job I had…I started the job when I was 24. It was amazing. I had the job from 24 to 34, I'll never have a job like that ever again."
Aw! So sweet.