Matthew Lewis still can't believe he inspired the term "Longbottoming" — and no, he's not going to take his shirt off all the time now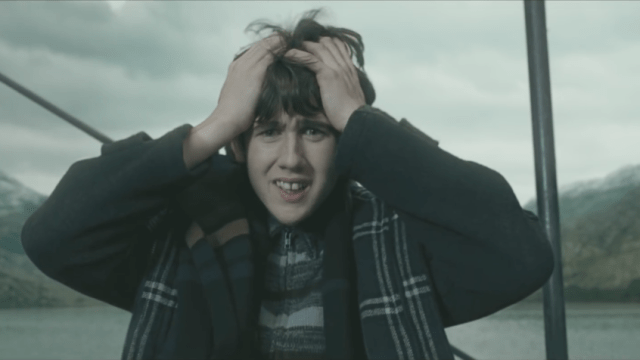 If you're a fan of Harry Potter — HELLO, EVERYONE — then you're definitely aware of the, um, dramatic evolution Neville Longbottom (aka Matthew Lewis) made throughout the films. And you're probably clued into the term "Longbottoming."
As Urban Dictionary *very officially* defines it, Longbottoming is: "The sometimes slow, sometimes overnight, always surprising transformation of someone, usually a man, from decidedly unattractive to hot as hell a la Matthew Lewis, the actor who played Neville Longbottom in the Harry Potter film series."
Lewis recently reminded his stans of said Longbottoming once again — you'll recall, his Attitude photos shattered the internet, and put J.K. Rowling through some serious emotional stress, in 2015 — when a trailer for his new series, Girlfriends, dropped online. Because in that trailer, Lewis appears shirtless.
Yep, Neville Matthew Lewis certainly looked much different than the awkward, clumsy boy we met in the Harry Potter films, even the later ones.
That's undeniable, but what's lesser-known is how Lewis actually *feels* about having inspired the phrase, and how he feels about people totally losing their shit pretty much every time a shirtless piece of media involving him is posted. Well, wait no more, because Lewis hopped on the phone with HelloGiggles and opened up about what it's like to have inspired "Longbottoming."
To have coined a phrase, I mean, that's like Shakespeare levels of...I never thought in my wildest dreams that one day I would have coined a phrase," Lewis said. "That's quite a powerful thing to say. I'm quite proud of that. I wish it was for my linguistics rather than my chest." But, it's still something to "tell the grandkids, I suppose."
Lewis went on to say that, sometimes, going shirtless comes with the acting territory, like with Acorn TV's Girlfriends — a show about "three women of a certain age [who] are juggling the challenges of modern life when a tragedy exposes secrets that put their friendship to the test." Lewis plays the rebellious son of one of those three women, Gail (Zoe Wanamaker aka Madam Hooch in the Harry Potter films!), who struggles to pull his life together.
BUT he's selective about when he'll go shirtless.
"When it comes to Girlfriends, it was contextual," he explained. "I thought the whole point of that scene, in my opinion, was to make Tom look ridiculous. I mean, I'm covered in this gooey lotion, this fake tan that he's putting on, which is completely ridiculous. He was bright orange by the end of it."
That said, Lewis isn't going to "mourn" people saying nice things about him because, as we all know, the internet can be as horrific as it is terrific, so why not take the compliment? Still, as much as he doesn't want to get pigeonholed as Neville, he doesn't want to be the guy who just can't for the life of him keep his shirt on.
"It just so happened in this particular show, I did," he said of going shirtless in Girlfriends. "And, actually, in truth, as far as what I wear, I think that this is only the second time I've taken my shirt off in my entire career on a TV show. And, the other one was Syndicate, which was [also] written by Kay Mellor." He then joked, "So, maybe it's Kay you need to speak to actually about this."
https://www.youtube.com/watch?v=6RKEUZUGurU?feature=oembed
All that's to say: Don't expect Matthew Lewis to go shirtless again anytime soon.
Unless, of course, he feels it's right for the role.
"I do lookout and whenever I see a description of a character that I'm potentially going to read for and it's like 'has great abs' or 'takes shirt off,' it's not at all what I want to be doing. It's not what I set out to achieve with the Attitude shoot. It's not what I ever envisioned for myself...It's not what I want to do, not what I want to be known for. It's all about context."
He added, "But, no, in truth, I'm very humbled by people's opinions. And, I think, everyone's mad. Everyone's gone mad. But, it's very nice." Well, we haven't gone mad, but…we see his point.
Catch Lewis in Girlfriends when it premieres in the U.S. on Acorn TV on January 29th.