Let's take a moment to remember all the times Matt Lauer behaved questionably towards women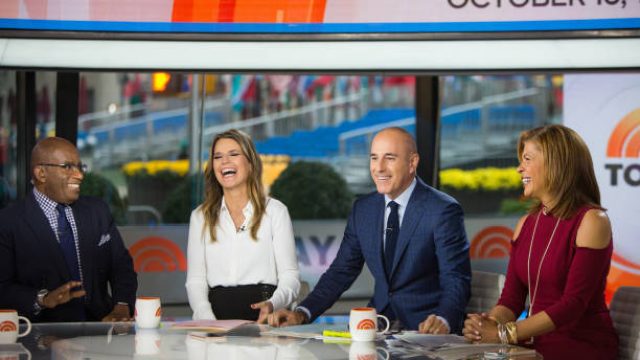 On November 29th, NBC announced its decision to fire Today anchor Matt Lauer amid sexual misconduct allegations. But Lauer's questionable history with women goes much farther back than today's revelation.
In 2012, Lauer's former cohost Katie Couric noted that Lauer "pinches me on the ass a lot" in an interview on Andy Cohen's Watch What Happens Live. While at the time Couric laughed the behavior off as an "annoying habit," the comment raises major red flags regarding Lauer's off-camera treatment of female colleagues.
In 2013, another of Lauer's former Today cohosts, Ann Curry, left the show amid rumors that she and Lauer didn't get along. A New York Magazine reportsaid that Lauer and Curry were not friends outside the show and barely spoke when not on camera. On her last day, Curry broke down in tears when saying goodbye to the audience, distinctly positioning herself away from Lauer.
Lauer also appeared to mock Anne Hathaway during an interview after her Oscar nomination for Les Miserables. Hathaway had recently suffered a wardrobe malfunction, which was caught on camera by paparazzi. Lauer prodded Hathaway about the unfortunate event, quipping, "Seen a lot of you lately."
https://www.youtube.com/watch?v=yruIL5lVGE4?start=68&feature=oembed
During the 2016 presidential campaign, Lauer also caught heat for his treatment of Hillary Clinton while hosting the Commander-in-Chief Forum. Many complained that Lauer continually interrupted Clinton and grilled her with questions about her private email server. Meanwhile, he allowed Donald Trump to speak uninterrupted and failed to fact-check the now-president's erroneous statements.
In his memo about Lauer's dismissal, NBC News Chairman Andrew Lack wrote that he had reason to believe Lauer had harassed multiple women.
"While it is the first complaint about his behavior in the over 20 years he's been at NBC News, we were also presented with reason to believe this may not have been an isolated incident," he said.
We're glad that NBC acted swiftly and decisively in light of the recent allegations against Lauer, and we'll continue to track the current situation as it develops.