Matt Damon surprises Idina Menzel to geek out over "Wicked," and it's simply the best
For a while now, Matt Damon and Jimmy Kimmel have been kinda feuding, all in the name of fun of course. Now enter Idina Menzel (aka Elsa in Frozen), who has apparently been crushing on the very handsome Hollywood actor.
So, here's the scoop. Menzel was a guest on Jimmy Kimmel Live recently and he quizzed her about what "cute guys" have come to meet her backstage at her show, Wicked.
After mentioning a couple of names including Tom Cruise, Menzel got a little bit shy for a moment as she started to tell a story about the one who "never came back (stage)." Yup, we're talking about Matt Damon!
"I was in London doing Wicked, and all my friends knew I had this movie star crush on Matt Damon, and every night they'd say 'Matt Damon's in the audience tonight,' [...] but he was never there."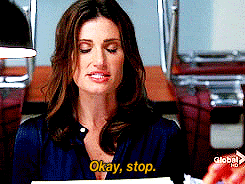 She then describes how Damon eventually DID get tickets to see the show, but they were for his mom and dad! Except one day he finally showed up backstage, looking like he "hated" the show! What gives, Jason Bourne?! What can you possibly not like about Wicked?
Then in true Kimmel fashion, they revealed Damon sitting backstage. He set the record straight once and for all.
"I'm kinda hurt by this, I loved Wicked. I was so moved."
You can see the whole clip here, and notice how adorable Menzel is when she gushes about her crush!
https://www.youtube.com/watch?v=BcnkMODvJPk?feature=oembed
Will this be the start of a blossoming friendship and lifelong bond between Idina Menzel and Matt Damon? Because that would be perfectly okay with us!