Matt Damon is already gushing about George Clooney as a dad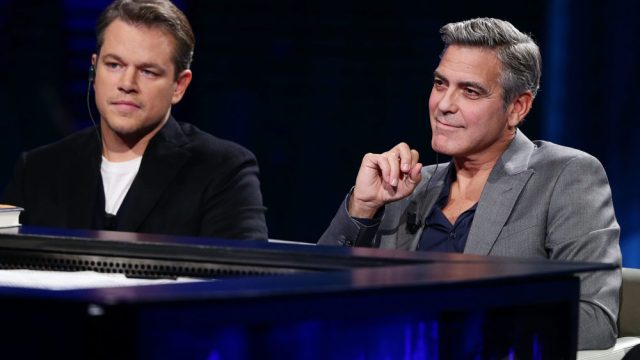 If he's looking to fill one of those crucial godfather positions, George Clooney should look no further than Matt Damon, who gushed about the dad-to-be's parenting skills the morning after the world found out that his wife, Amal Clooney, is expecting.
On Friday morning's installment of the Today show, Damon explained that George — who of course, will be welcoming freaking twins with his wife of nearly three years — will make a pretty stellar dad. And since Damon has four girls himself with his wife Luciana Barroso, we feel pretty confident in saying he knows a thing or two about the topic.
"She's spectacular — those kids are really lucky," Damon told Natalie Morales. "He'll be great. He's just so smart; he's so loving. He's going to be great."
Damon also revealed that he's known the big news for months, as his Ocean's Eleven, Syriana, and The Monuments Men costar was way too excited to keep it to himself.
"We were working together last fall, and he came up to me on set and took me aside and told me; I was so happy for him," Damon revealed. "But I said, 'So how far along is she?' And he goes 'eight weeks!' And I'm like, 'Don't say anything!' He didn't know the 12-week rule, I think. You know, you're supposed to wait." https://www.youtube.com/watch?v=p-t5aG9Ldms
Amal is due to give birth in June, which means that 12-week waiting period has long since past. And while Damon is, again, totally thrilled for his friend of multiple decades, he also admitted that George and Amal have a tough road ahead of them.
"I mean, twins? They're going to need [help]," he concluded.