How to masturbate when you're never home alone, according to sex experts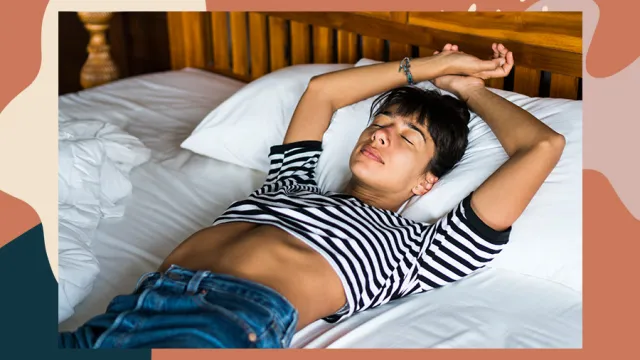 May is International Masturbation Month.
As the coronavirus (COVID-19) pandemic continues on, people across the world have been affected through every aspect of their lives—including masturbation. As shelter-in-place mandates continue in some states, many of us are finding that we're spending a lot of time at home, and it can be hard to get off whenever we want when it's no longer a viable option to have solo time.
Having our roommates, S.O.s, or parents around may make us want to squash any future hot and heavy self-love seshes, which may prevent us from reaping the mental and emotional health benefits that masturbating provides (i.e. stress reduction, mood elevation, increased concentration, and pain alleviation)—which, honestly, are needed now more than ever.
So what's a person to do when they can't enjoy some sexy "me" time? Clinical sexologist Dr. Megan Stubbs, Ed.D, suggests using your hands or finding the quietest sex toy you can find and just go about your business. "Living in shared spaces and close quarters means that you're bound to hear your roommate do a variety of things," Dr. Stubbs tells HelloGiggles. "Do they warn you when they're going to use the toilet and you hear them let out a poot? Unlikely. Masturbation is 100% normal and so are your sounds of pleasure."
While there's definitely no shame in masturbation, when you have a house full of people, there may be a need for modifying your usual routine. Here's how to masturbate when you're no longer the only person in your home. 
Choose your time wisely
As someone who's currently sticking out this pandemic at her parents' country house, I've learned that timing is everything. And for me, that timing means in the middle of the night, long after mom and dad have gone to bed. 
"One of the easiest ways to ensure you're not attracting the attention of the entire house when you're masturbating is to wait until everyone else is asleep," Alexandra Fine, CEO and cofounder of Dame Products, tells HelloGiggles. "It's an obvious one, but it will give you the space to feel relaxed, with less time pressure." 
As Fine explains, making masturbation part of your nighttime, self-care ritual is a surefire way to help de-stress before bed as well as sleep better. She also says that lighting a candle and adding music to the mix—through your headphones, of course—can make the experience that much more pleasurable.
Take advantage of reverse soundproofing
If you can't wait until nighttime when everyone is asleep to get off, then don't let those roommates stand in your way. Personally—as this has been my technique since I was a teenager—a heavy duvet can muffle even the loudest vibrators. As Dr. Stubbs explains, "blankets, duvets, and pillows are your friends" in these situations. 
"I like to think of reverse soundproofing," says Dr. Stubbs. "Where are you in relation to where your roommates are? Are they in the living room with the TV on? Chances are you can hear them more than they can hear you. Think of all of the layers that are separating you and then adjust accordingly. The more sounds between you and them, the larger the sound buffer you have."
Although, ideally, you'll want to choose a quiet vibrator to be on the safe side, this is a time to get creative with the kinds of ways you can soundproof your room. "Just play something from the Food Network," says Dr. Stubbs. "Your moans can easily be explained by any show."
Bring it to the shower
Talking about muffling sounds, there's nothing quite like a shower to help soundproof a room.
"The rush of water around you will help drown out any noises you're making, give you a totally private space, and can help you feel extra sexy and connected with your body," says Fine. "Take a waterproof toy with you and experiment with how your favorite settings feel in the steam."
Although a bath could potentially be an option, too, that would only be while the water is running. 
Lie on your stomach
If you're usually the type of person who lies on your back, legs spread while masturbating, then flip over and try lying on your stomach instead.
"Lie on your bed on your stomach with your hand or a small toy underneath you," Fine says. "This creates a double-soundproof layer, with both your body and the covers on top of you. This position will also make it easier to muffle any sounds you might make with easy access to your pillow."
Be wary of the fact that some vibrators are strong enough to shake the bed, which can cause a big rumble coming from your room—so opt for quiet vibrators to keep the noise to a minimum.
Talk to your roommate(s)
Although this might seem daunting at first, the fact remains that we're all human, we're all sexual beings, and there's absolutely no shame in masturbating. And every time we talk about it, we help to normalize it. One of the best ways to do this is by starting a conversation with your roommate if things are about to get loud and heavy.
"Whatever dynamic you have with your roommate is cool, but you don't have to announce to them that you may be masturbating," says Dr. Stubbs. "Unless you're going to do a full-on, video masturbation chat and you need to hit those moans and high notes so that your device's mic picks them up."
If that's the case, Dr. Stubbs suggests telling your roommate something along the lines of, "I'm about to have a sexy time, and you may want to turn up your podcast." 
Fine agrees that being honest and getting straight to the point might be the best way to handle things. 
"While it might not be a solution for everyone, there's also something to be said about being honest with your roommates that you need some quiet time to masturbate," Fine says. "While it's an intimate act, it doesn't necessarily have to be a secret. Remember that people also tend to match the energy of who they're talking to, so try to approach the conversation with a relaxed tone, the way you would any other topic. Suddenly, announcing your plans to masturbate might not seem so strange."
Pick a quiet sex toy
With so many vibrators on the market, it can feel nearly impossible to choose the right quiet toy for you. In my personal opinion, the quietest sex toys that have always fulfilled my needs and literally rocked my vulva and clitoris to the point of no return are the following:
1. Dame Products are known for toys that make minimal noise. While Pom and Fin by Dame are both quiet, when placed side by side Pom is definitely the quieter of the two, just ever so slightly. As Fine explains, "We designed Pom specifically to be a great toy for humping." So if you're ready to flip onto your stomach to keep things extra quiet, Pom is your best bet.
2. Although the entire Chrome Collection by Le Wand is pretty damn quiet, the quietest of the bunch is Le Wand Grand Bullet. Despite its size, it's very powerful with 11 vibration modes and four intensities. It's also waterproof, making shower masturbation that much more fun.
3. If these toys are a bit out of your price range, another quiet vibrator is the Iroha Mini Vibe by Babeland. The toy fits in the palm of your hand and is powerful enough to rock your socks off.
4. If you're not a vibrator person and prefer dildos, then look no further than Le Wand's new collection of stainless steel dildos. First of all, you don't have to worry about anyone hearing vibrations, and second of all, they just feel amazing. So, in this case, it's all about monitoring your moans of pleasure and less concern about vibrating noises.