Why you shouldn't be afraid to talk with your friends about masturbation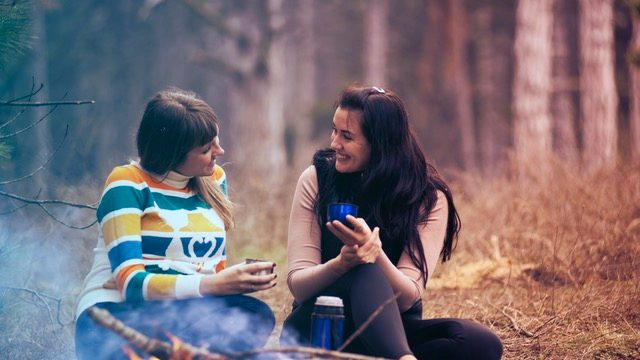 During the last week of the month of May, which happens to be International Masturbation Month, we're diving into some topics you probably don't talk about on a regular basis. Masturbating is a part of everybody's life, whether or not everybody likes to admit it, and it's also an act that can greatly contribute to your overall health. However, talking about masturbating with your friends likely isn't at the top of your priority list. In fact, you might avoid this conversation at all costs with any human beings.
There's nothing wrong with masturbating, though, and there's definitely nothing wrong with talking about it with the people you trust most. Sure, chatting about masturbating with your partner has its benefits in the bedroom, but you might be surprised to learn that approaching the subject with your besties can also do you some good. HelloGiggles spoke to Stephanie Keating, Brand Manager at We-Vibe, a company that makes high-quality solo and couples sex toys. She encourages everyone to open up about their sex life, especially the people they're closest with.
"While once the topic of sex and masturbation were considered taboo, those stigmas are beginning to fade," she tells HG. By talking about masturbating in a healthy way, you can speed along the destigmatization and enjoy yourself along the way, because there's nothing wrong with giving yourself a few orgasms.
Here are five reasons you shouldn't be afraid to talk about masturbating with your friends.
1Everybody masturbates—including and especially your friends
We realize it's not the easiest thing to talk about, but the truth is, every person you know masturbates. "Masturbation is healthy, normal, and extremely common," Keating confirms, which is why you don't have to be scared to bring it up or joke about it in conversation. Some of your friends might be uncomfortable at first, but ease into it and see how they respond. You talk about everything else anyway—dating, pooping, showering, eating—so why not chat about masturbating, too? It's just as normal as all the other stuff.
2It will strengthen your friendships
"Opening up about your sexual pleasure with close friends can bring you closer," Keating advises. Emotional intimacy is a way for any two people to bond, and that's why you feel so much more vulnerable with your friends when you tell them about your precious childhood memories or the fight you just got into with your SO. Talking about masturbating can also serve as a way for you guys to feel closer to one another.
You can talk about what sex toys you use or how often you masturbate, and even if you giggle through the whole conversation, afterwards you'll probably feel like you can share anything with each other.
3You might learn some new tricks to use on your own
We all have our own unique, er, methods to reach orgasm when we're flying solo. You're probably set in your ways and you've got your own rhythm going, and that's fine, but there's a lot out there you probably haven't tried yet. Keating says talking about masturbating with your friends could "open your eyes to new methods/techniques," and we're sure you won't say no to that. Listen to what your friends have to say and see if any of your tips could be useful to them.
4It will probably strengthen your relationship with your SO
When you break down your own barriers to talk about masturbating with your friends, you make it easier for yourself to open up with your partner about anything sex-related. Think of talking about masturbating with your best friends as a trial run. When you go home to your SO, you'll then feel more confident and equipped to talk about sex and masturbation with them, and that will likely result in fireworks in the bedroom.
5It will further break down the stigma of masturbation and sex
Keating reminds us that we've seen a lot of sex-positive material on TV and in the movies these days. She cites Girls, The Mindy Project, and Broad City as programs that have presented masturbation with honesty and vulnerability. "The conversations happening on screen make it to the water cooler the next day and the taboos begin to fade," she tells HG. It's no wonder that, in a 2015 We-Vibe study, 85 percent of participants felt more comfortable talking about masturbating than they did in the past, and 69 percent said they had talked about masturbating with a group of friends before.
We can help break down the stigma more and more if we talk to our friends about masturbating. We want to live in a world where sex isn't something to be ashamed of, and you can make that happen by being open with the people you're closest with. So make a pot of tea and chat away. You've got nothing to lose!