Can masturbating really help reduce menstrual cramps? Here's what we found out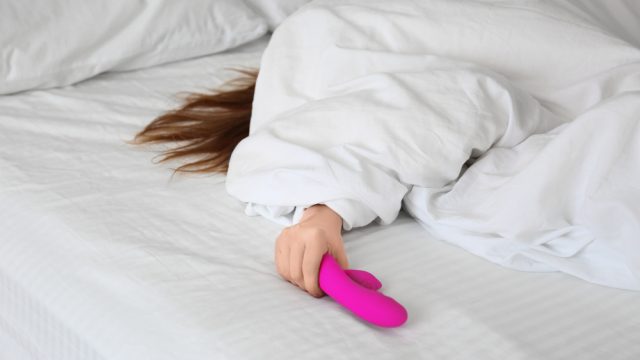 Go ahead, touch yourself. May is International Masturbation Month—or Masturbation May—and we want to fill you in on a climactic secret. Masturbation relieves stress and helps you understand your body. Furthermore, masturbating also relieves menstrual cramps. Yep, you read that right. The big O is a godsend.
International Masturbation Month was conceived after the U.S. surgeon general, Dr. Joycelyn Elders was fired in 1994. She said that masturbation should be taught in sex-ed. The sex toy company, Good Vibrations, sought to find a solution to the criticism. As a result, International Masturbation Month was born. The month encourages positive dialogue and informative conversation around sex education—and masturbating, of course.
Masturbating makes us feel the obvious. Hint: fantastic. But that's not all. Masturbating can also help ease the pain we experience once a month when we're menstruating, so having an orgasm during your period may turn out to be a beneficial solution for your body. Forget the heating pads and Midol; bring out the vibrators.
This has been confirmed by Judith Golden, a sex therapist based in Toronto, who said, yes, masturbating can bring you great joy when you're on your period. In more ways than one.
"The strength and intensity of an orgasm can relieve cramps," Golden told Besthealthmag.com. "The hormones released during sexual excitement can also help."
It also might interest you to know that your pain tolerance goes up while having an orgasm and masturbating increases blood flow, so your period pains may very well vanish during your one-on-one time. Furthermore, masturbating can make us happy, warm, de-stressed, and sleepy. In other words, The big O is sort of a miracle cure.
Aids morning sickness
Helps with migraines
Alleviates stress
Increases productivity
Decreases tension
Researchers haven't found a definite link between masturbation and period cramps. However, they do know that the release of an orgasm creates good vibes and good feels. This expert advice doesn't mean you have to stick to masturbation when you're on your period. Sex with a partner can also relieve pain, so if you're a fan of period sex, get it on.
Furthermore, Dr. Alyse Kelly-Jones, an OBGYN, told The Berry, "Orgasms help strengthen the pelvic floor and improve blood flow to the genitals." We need both of those things when we're menstruating.
Orgasms release endorphins, which make our body feel more pleasure. As a result, once those chemicals are released, our brain focuses on that self-pleasure and can even forget about other aches and pains.
According to a Swedish study, one in seven women have never masturbated. Moreover, women are likely to never use sex toys. The masturbation stigma surrounding women is still high and many women find the topic embarrassing or taboo. There's no reason to be ashamed, though—it's a perfectly normal bodily function that has many benefits.
Curing pain isn't the only reason to touch yourself. Experimenting, exploring, and celebrating your body is something we encourage you to do for the month of May. And every month after. The happiness of your period depends on it.