Someone made a mashup of every Carpool Karaoke and it's the joy we need in the world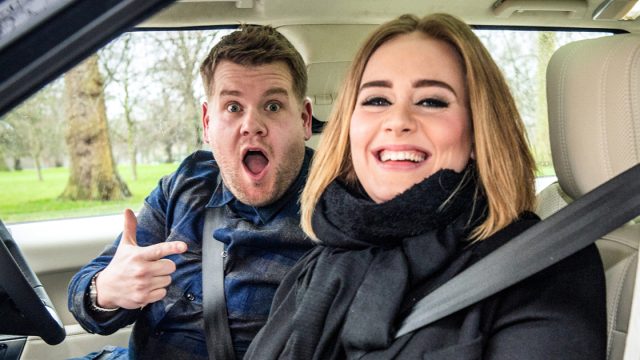 It's safe to say that 2016 was a humungous year for James Corden and the incredibly popular segment from his Late Late Show, Carpool Karaoke.
The British actor and chat show host entertained the entire world with his musical car trips, and practically everyone took part!
We had our socks blown off by Lady Gaga performing hits like "Bad Romance" and "Million Reasons" (while also doing some questionable driving), Britney Spears spoke about tickle fetishes while serving some proper Britney-isms, Madonna twerked while being driven around New York, Michelle Obama (!) got her freak on with Missy Elliott, and Adele rapped the whole of Nicki Minaj's verse from "Monster" and slayed it in the process. We even got a special festive version of Carpool Karaoke featuring Mariah Carey and HEAPS of famous faces.
https://www.youtube.com/watch?v=Nck6BZga7TQ?feature=oembed
Well, now someone has made an incredible mashup of almost EVERY Carpool Karaoke and it's so joyous.
The Carpool Megamix is centered around Justin Timberlake's summer smash "Can't Stop The Feeling," and sees LOADS of amazing songs all mashed up together, including tracks by the Spice Girls, Coldplay, One Direction, Selena Gomez, and Gwen Stefani all flawlessly blended with their respective clips from the show. The video even features a cameo from Chewbacca Mom!
https://www.youtube.com/watch?v=L-GcqO86OBg?feature=oembed
The video was put together by YouTuber AnDyWuMUSICLAND and isn't the only amazing megamix to be found on their channel. Indeed, they even created an EPIC mashup of the 90 best songs from 2016 and we can't get enough of it.
https://www.youtube.com/watch?v=id1V_etkf50?feature=oembed
Amazing.
Meanwhile, it was confirmed last year that James Corden's Carpool Karaoke would be getting its own show. However, rather than being given a traditional TV show, it was announced that the segment would be coming to Apple Music.
"We love music, and Carpool Karaoke celebrates it in a fun and unique way that is a hit with audiences of all ages," said Eddy Cue, Apple's senior vice president of Internet Software and Services, in a statement. "It's a perfect fit for Apple Music — bringing subscribers exclusive access to their favorite artists and celebrities who come along for the ride."
Indeed, Carpool Karaoke has proven so popular that CBS announced that the format had also been sold internationally, too.
Hopefully, 2017 will see even more AMAZING cameos and features as Carpool is seriously one of our favorite things ever, and we're still holding out for loads more icons to appear alongside James Corden.